Opentracker: Tracking, Stats and Analysis

Tyler Banfield, 09-21-2007
What is Opentracker?
As you probably guessed, Opentracker (which is located at
Opentracker.net
, not .com) is a web site tracking tool that allows you to gather stats about your visitors and then analyze them.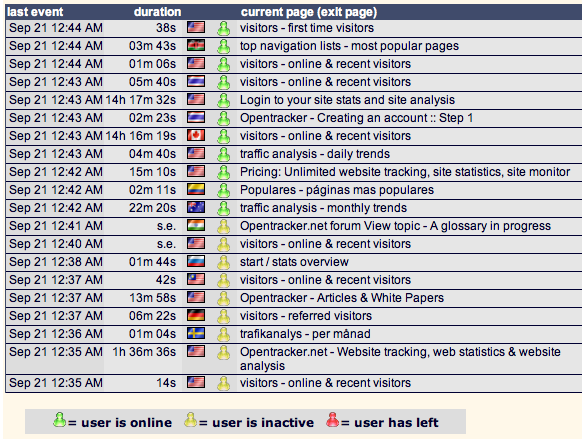 What sets Opentracker apart?
Like
Statcounter
, the major advantage of Opentracker is that it allows you to track your visitors in real time. Although this is not always necessary, it can be extremely useful in some situations. For example, if you're launching a new PPC campaign, viewing your traffic statistics in real time can help you make on the fly decisions that can help you save money in the long-run.
The other feature that makes Opentracker stand out is the ability to see extremely detailed information about each visitor that comes to your web site. Here's the data that Opentracker collects for each and every visitor that comes to your web site:
Quote:
1. user origin data - country, city, region, company, organization, ISP, zip code, area code

2. 'page before' data - referrer, search terms used, directory, etc.

3. entire visit history - pages viewed, time of visit, average duration, exit activity, etc.

4. computer information - ip address, browsers, operating systems, resolution, etc.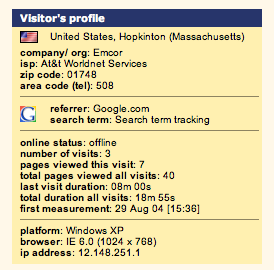 If you are running a PPC campaign, this data can be extremely useful in helping you identify any click fraud.
How much does it cost?
Although it's not free, Opentracker prices are extremely competitive. For a web site that receives up to 100,000 pageviews per month, Opentracker is only $16.99 a month (or $169 per year, a $34 saving). The pricing scale for sites with a higher volume of page views are listed below:

Can I try it out before buying?
Yes, Opentracker actually offers a fully functioning
four week demo
. You can try Opentracker out for a month, and at the end of the month will be given the option to continue with a paid subscription.
For the full list of features that Opentracker offers, be sure to visit the official Opentracker Features Page.
Enjoyed this post?

Subscribe Now to receive new posts via Email as soon as they come out.