Shopping Cart Net Sales Report

Adrian Singer, 08-22-2008
When you sell anything online, it is very important that you
know your numbers
.
Most folks know their
gross sales
(total $ collected in sales), but what about the more important numbers?
SoftwareProjects
Shopping Cart
Net Sales Report
shows a breakdown of:
* Gross sales,
* Commissions,
* Refunds and
* Net sales (Gross sales - Commissions - Refunds)
...over a selected time frame: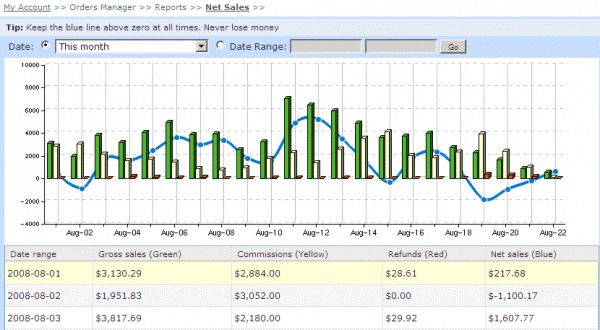 Focusing on net sales and always keeping your net sales line above zero, is the only way to turn a real profit.
Enjoyed this post?

Subscribe Now to receive new posts via Email as soon as they come out.