How do you know when your
Shopping Cart
,
CRM
,
Help desk
and
Fulfillment
are all properly integrated?
When you get
Daily Sales Stats
emails like this one: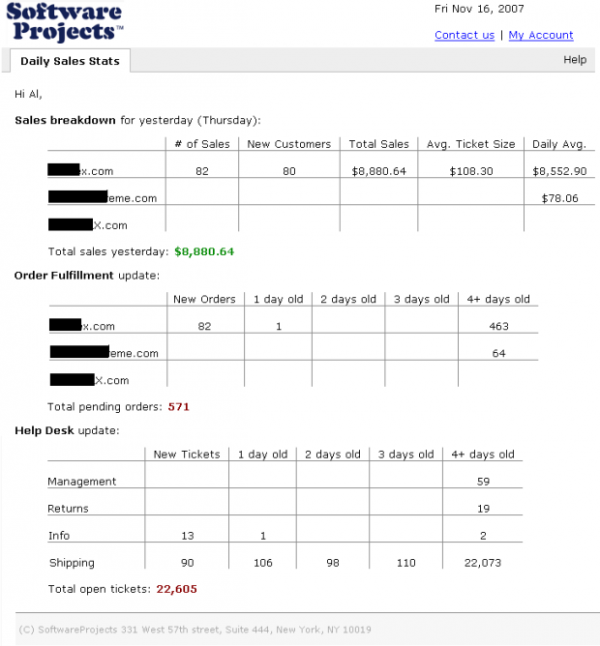 View 1 Comment(s)
What is Opentracker?
As you probably guessed, Opentracker (which is located at
Opentracker.net
, not .com) is a web site tracking tool that allows you to gather stats about your visitors and then analyze them.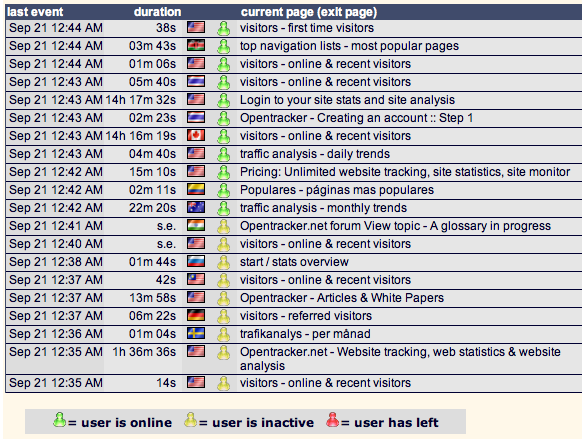 What sets Opentracker apart?
Like
Statcounter
, the major advantage of Opentracker is that it allows you to track your visitors in real time. Although this is not always necessary, it can be extremely useful in some situations. For example, if you're launching a new PPC campaign, viewing your traffic statistics in real time can help you make on the fly decisions that can help you save money in the long-run.
The other feature that makes Opentracker stand out is the ability to see extremely detailed information about each visitor that comes to your web site. Here's the data that Opentracker collects for each and every visitor that comes to your web site:
Quote:
1. user origin data - country, city, region, company, organization, ISP, zip code, area code

2. 'page before' data - referrer, search terms used, directory, etc.

3. entire visit history - pages viewed, time of visit, average duration, exit activity, etc.

4. computer information - ip address, browsers, operating systems, resolution, etc.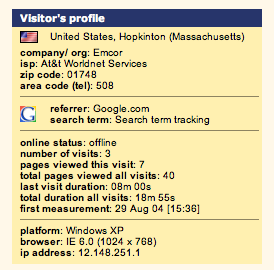 If you are running a PPC campaign, this data can be extremely useful in helping you identify any click fraud.
How much does it cost?
Although it's not free, Opentracker prices are extremely competitive. For a web site that receives up to 100,000 pageviews per month, Opentracker is only $16.99 a month (or $169 per year, a $34 saving). The pricing scale for sites with a higher volume of page views are listed below:

Can I try it out before buying?
Yes, Opentracker actually offers a fully functioning
four week demo
. You can try Opentracker out for a month, and at the end of the month will be given the option to continue with a paid subscription.
For the full list of features that Opentracker offers, be sure to visit the official Opentracker Features Page.
What is Hitwise?
Quote:
The Hitwise online competitive intelligence service provides daily insights on how 25 million people interact with over 1 million websites in 160+ industries. Our unique, global network of Internet usage data is integrated into our user friendly service, helping you better plan, implement and report on your online branding, search marketing, content strategies and online partnerships.
How does Hitwise collect this data?
According to their web site, Hitwise uses a network-centric methodology to collect data. This means that Hitwise collects their data directly from ISP networks. Although they do not collect any personal information, Hitwise does receive anonymous data in the form of web site metrics, ranging from page visits to average visit length. Because their sample size is
extremely
large, the data Hitwise can provide is extremely valuable.
Who can benefit from Hitwise data?
Whether you are an affiliate marketer, business developer, search engine marketer or in any other way concerned with how your company's web site is performing in the overall scheme of things, if your budget allows it, Hitwise data can help you do a lot.
How much does it cost?
Hitwise offers two different products:

Purchase Access to Hitwise
"With the Hitwise Competitive Intelligence service, you will have access to daily insights on 160+ industries and 1 million websites."
Although they do not publish the cost of this service on their web site, a typical subscription costs around $40,000 to $50,000
Hitwise Research Store
"Hitwise reports offer a concise analysis of market trends in any one of Hitwise's 160+ industry categories or on thousands of categorized websites." If you don't have the budget for a full subscription to Hitwise, a report can be a good alternative. Starting at $695 a piece, the Hitwise reports cover a wide variety of industries and markets.
For more on Hitwise, check out Adrian's post on
Competitive Intelligence
or
iMedia Connection's
Hitwise review.
I always knew Alexa traffic ratings were inaccurate, but kept using Alexa to compare sites in the same niche, not knowing there is a more reliable approach to monitor third-party traffic.
That is, until the recent Search Engine Strategies San Jose, where I had the opportunity to sit down with the fine folks of
Compete.com
Alexa is inaccurate because it relies on end-users using the Alexa toolbar. The more Alexa-toolbar-users visit your site, the higher your Alexa ratings would be.
The problems with this model are -
1. Most end-users
don't use the Alexa tool-bar
, so whatever data Alexa has access to, is a very limited subset.
2. That subset is
not representative
of the entire Internet community because - some niches don't lend themselves to Alexa toolbar-users. Alexa toolbar users are typically webmasters concerned with their Alexa ratings.
3. By definition, Alexa numbers
can be manipulated
using a rather simple distributed bot attack
Compete.com
offers a (third party) Site Analytics service similar to Alexa, where you could view traffic readings for competitor sites.
Unlike Alexa, Compete.com does not rely on a tool-bar. Compete.com partners with major ISPs and calculates most of its readings
based on aggregate traffic data as reported by the ISPs
.
This helps in ensuring Compete.com covers a much larger target-base, one that is more representative of your typical website visitors and is less prone to manipulation.
I'll summarize this post with a comparison of what Alexa and Compete each report on a new domain we launched a few months ago that is currently getting about 100k unique visitors per month.

As you can see, according to Alexa, the domain has no activity. Compete.com readings are amazingly close to our Google Analytics report.
Compete.com rocks.

What is KeyCompete?
Quote:
KeyCompete is an online keyword research tool that identifies the keywords your competitors are using in their pay-per-click campaigns. KeyCompete also identifies the competition that is bidding on your keywords.

Discovering what keywords your competitors are using may be your best source of competitive advantage in online advertising. Advertisers with larger keyword lists win more traffic at a lower cost per visitor than their competition.

The difficulty in becoming a legitimate competitor in any space is the time consumed in building your initial keyword lists and growing them. KeyCompete's proprietary technology does this for you. KeyCompete allows you to download the keywords that are driving traffic to competing sites, instantly.

With KeyCompete, there is no software to download. All of KeyCompete's search results are delivered in an online format with a web browser. Results are also available for download in Excel format and tab delimited format.
How much does KeyCompete cost?
When you first visit the KeyCompete homepage, you may be under the impression that it is a free service. However, it is actually a subscription based service. Although you can perform a keyword or domain on KeyCompete for free, it doesn't actually give you any useful information.
Below is a screen shot of KeyCompete's different paid options: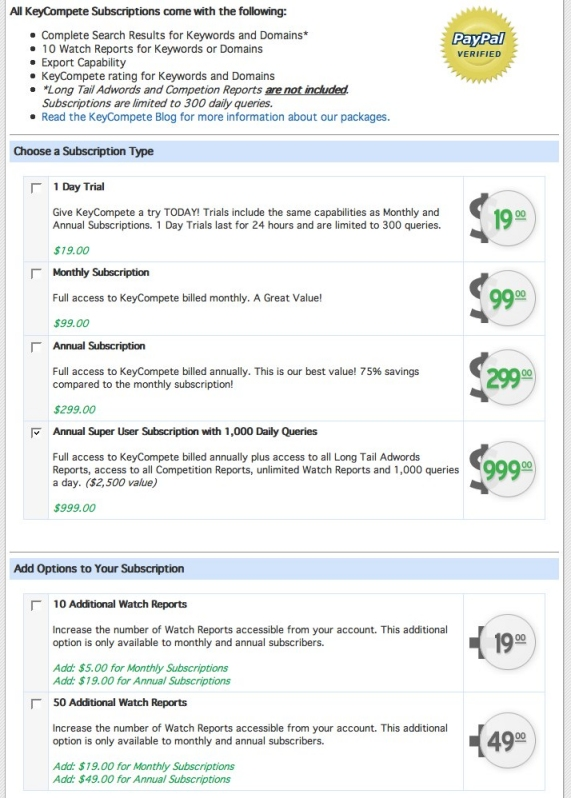 So what exactly is included in the subscription and watch reports?
Subscription
This allows you to perform full research on domains and keywords. When you search for a keyword, KeyCompete shows you all of the domains that are bidding on that keyword. When you click on one of the domains listed, KeyCompete will show you all of the keywords that domain is bidding on. One of the best features of KeyCompete is that it allows you to easily download these keyword lists in an easy to use Excel spreadsheet.
Watch Report
KeyCompete actually offers two types of Watch Reports: Keyword and Domain.
Keyword Watch Report:
"A Keyword Watch Report will show you all of the domains bidding on that keyword, what search engines they were found on, and what their rank was on that engine. The report will also show what domains are new, rising, falling or dropped from the results. New domains are those that were not in the previous index. Rising domains are those that have moved up in their rankings or established more coverage. Falling domains are just the opposite - dropping in ranking or in coverage. Dropped domains are those that no longer are found to be advertising for the keyword."
Domain Watch Report:
"A Domain Watch Report will show you all of the keywords found for that domain, what search engines they were found on, and what their rank was on that engine. The report will also show what keywords are new, rising, falling or dropped from the results. New keywords are those that were not in the previous index. Rising keywords are those that have moved up in their rankings or established more coverage. Falling keywords are just the opposite - dropping in ranking or in coverage. Dropped keywords are those that no longer are found for the advertising domain."
In addition to the subscription and watch report
, KeyCompete also offers a Competition Report. One of these reports can be purchased for $19.95, and according to the web site contains the following information:
Quote:
A Competition Report is a report that KeyCompete has automatically compiled about a specific domain. Using the keywords for the chosen domain, KeyCompete will search for similar domains that are bidding on these same keywords and categorize them into Competition and Competition Plus. Competition Plus are competitors that share a high percentage of keywords. A Competition Report will also include all the keywords of your competitors that you may not be using in your search engine marketing campaigns.
Overall
, if your company is engaging in PPC advertising, the information that KeyCompete provides will easily cover the $300 cost of a yearly subscription.
View 1 Comment(s)
What is ClickTale?
Quote:
ClickTale is a brand new approach to website analysis and optimization. While traditional web analytics provide aggregated visitor data across web pages, we provide information about individual visitor behavior inside the web page. We show website owners movies of browsing sessions, as well as meaningful reports of behavior inside their webpage by aggregating thousands of visitor sessions. Now, website owners can gain a deeper understanding of visitor behavior, which leads to improved website usability, enhanced navigation, and increased overall website effectiveness.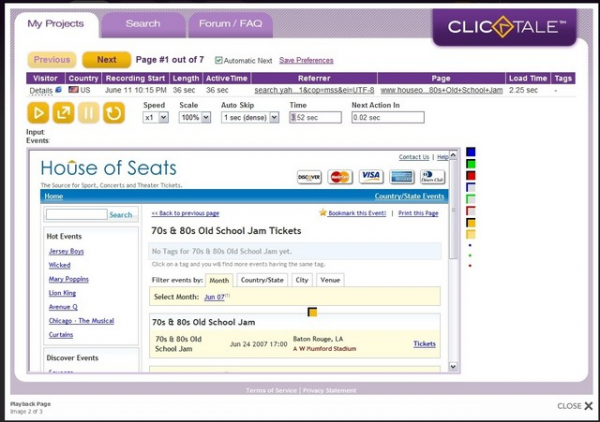 What are some of ClickTale's features?
-Heatmaps for an aggregate view of your data
-Advanced search capabilities
-Automatic tagging
-Member-only, password protected, session based
-Advanced API to ease the integration of complicated scenarios
-Third party Content Delivery Network to deliver our files to your visitors
Is ClickTale difficult to install?
No, ClickTale is a hosted solution, which means that all you need to do is setup your account and add the small snippet of Javascript to the pages that you would like to track (the entire process normally takes 5-10 minutes).
Can I use ClickTale with other analytics software?
Yes, ClickTale does not interfere with the Javascript code used by other analytics software like
Google Analytics
.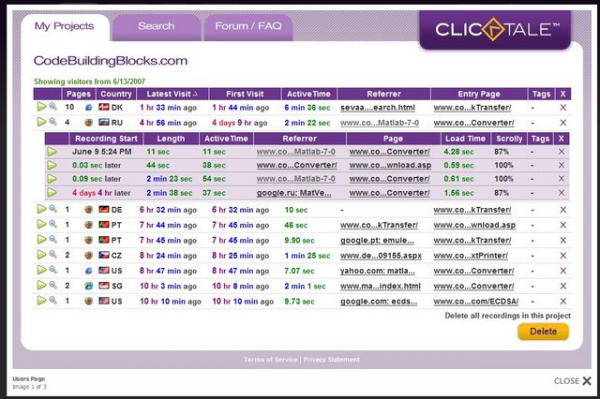 How much does it cost?
According to the web site, a standard ClickTale plan is free. However, ClickTale plans are invitation only, which means when you sign-up, you information is added to a waiting list. As ClickTale expands their hardware capabilities, they send out additional invitations. The web site also states that people with a current account have the option to upgrade their plan (no other specific details are given).
Where do I sign-up?
You can submit your information and add yourself to the waiting list by visiting the official ClickTale
sign-up page
.