Call us Toll-Free:
1-800-218-1525
Email us

This short tutorial will explain how to upload a file to the Amazon S3 Web Service using a Firefox add-on. Before following the steps below, you will need to have Firefox installed and an Amazon S3 Web Service account. The following are the basic steps in this process:
In order to add files to your Amazon S3 account, first you need to install software that will allow you to upload files to the Amazon S3 server. The software that we will be using for this tutorial is a Firefox plugin called "S3 Firefox Organizer". To download and install this software go to the Amazon S3 Firefox Organizer add-on page and click the "Add to Firefox" button. After installing the software, restart Firefox.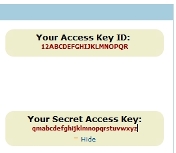 In order to allow the Firefox add-on to access your Amazon S3 account, the access key and secret key from Amazon are required. Simply login to the S3 account to obtain these keys. After logging in at the above link you should be viewing the "Access Identifiers" page (image right). Leave this page open as you will need to copy and paste the access key and secret key in the next step.
Now that the Firefox add-on is installed and you have the access key/secret key, you can login to the Amazon S3 Service and upload files. To login to the Amazon S3 Web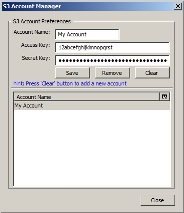 Service go to Firefox and click tools→S3 Organizer in the file menu. This will open a new window and should give you a message stating that your login credentials are invalid, click "ok". Now click "Manage Accounts" and fill in your login credentials. The account name can be any name that will help you remember what account you are logging into, such as "My Account". The next two fields, "access key" and "secret key" need to be copied and pasted from the Amazon Web Service page in the previous step. After filling in the 3 fields click "Save" and "Close". After clicking "Close", the Firefox S3 add-on should automatically log you into your account. It will display your local files on the left-hand side of the screen and your Amazon S3 files and directories on the right-hand side of the screen.
Now that you are logged into your account, you just need to upload the file(s) to the Amazon S3 Web Service. First you must make a folder (aka bucket) to save the files in. To do this, right click on the right-hand side of the screen and click "Create Directory". After creating the directory, find the file you would like to upload on the left hand side of the screen, select the file and click the right arrow in the middle of the screen to upload the file.
After the file has finished uploading, it is by default only viewable by your account. If you would like to make the file viewable by anyone, you will need to change the file permissions. This can be done in the S3 Firefox Organizer by right clicking on the file on the right-hand side of the screen and selecting edit acl. In order to make the file viewable by everyone, you will need to give everyone permission to read the file. Just click the X's to change the status. The screen should look like the image below when you are done.

The last step is to get the URL for the file that you have uploaded. In order to get the link, simply right click the file in the S3 Firefox Organizer and select copy url to clipboard. Now that you have the URL you can email it to others or place it on a website. This will give others access to your file that you have now stored on Amazon S3.
Congratulations and Welcome to the cloud!
View 2 Comment(s)
A favicon is a small, 16x16 image that is shown inside the browser's location bar and bookmark menu when your site is called up. It is a good way to brand your site and increase it's prominence in your visitor's bookmark menu.
Dynamic Drive has a great tool that allows you to transform any image to a favicon.
You can access the tool here:
FavIcon Maker
All you then have to do, is place the
favicon.ico
file under the top level directory of your website and viola - an icon will show up for your website.
When designing banners for your affiliate program, Google's content network or media placements on other sites, it is important that you size your banners to be compatible with the target site.
The most popular banner sizes are:
Horizontal
728 x 90 Leaderboard
468 x 60 Banner
Vertical
120 x 600 Skyscraper
160 x 600 Wide Skyscraper
Square
336 x 280 Large Rectangle
300 x 250 Medium Rectangle
250 x 250 Square
200 x 200 Small Square
You can see a sample of the different banner layouts on
this page
.
Other popular sizes include:
300 x 600 Medium Rectangle
180 x 150 Tiny Button
View 1 Comment(s)
Last week YouTube switched to a
wide video format
and this week, YouTube is finally delivering on their promise of
high definition videos
:
YouTube
is joining
Veoh
,
Viddler
,
Vimeo
and others already offering high quality videos.
One thing is certain - Video is here to stay.
With video consumption on a steady increase, video quality surpassing DVD and universal search pushing videos to the top of the search results, the message is clear -
If you're not using videos today for your business, you're missing out.
Video =
Traffic + Brand recognition
= Money
If you have a new technology product to showcase to the Internet Marketing & Web development community, SoftwareProjects is the place to do it:
SoftwareProjects reaches a highly influential audience who cares about new technologies and services. Our community includes entrepreneurs, software engineers, venture capitalists, marketers, corporate decision makers, media and interested consumers.
SoftwareProjects was recently honored by Inc. Magazine with the designation of America's fastest growing
full-service Internet Marketing & Web Development
firm. With 3,000 business customers in 14 countries, SoftwareProjects.com attracts high quality decision makers who are on the lookout for new technologies and services.
SoftwareProjects Sponsors
SoftwareProjects offers premium sponsorship ad units, displayed on every thread page, featured in our RSS feed and featured on the site as a review by our editors. (See sample reviews
here
,
here
and
here
)
These sponsors are very important to us, and we look for products and services that we feel would be relevant to our targeted and influential audience.
Ad Specs:
250 by 250 pixel size

Preferably the company or product logo

Will link back to the company product page

No animations (simple ads)

Premium sponsorship is $10,000/monthly.

We operate with a minimum term of two months, followed by a month-to-month plan where either party may terminate the relationship on 30 days notice.

If you are interested in securing a premium sponsorship on SoftwareProjects, please contact Amy Lee at amy -[at]- softwareprojects.com.

CPM Advertising

SoftwareProjects has partnered with Google to offer text, graphical, and rich media ads through the Google AdWords program. If you'd like to take a self-service approach to advertising on SoftwareProjects, and have your campaign live within the hour, you can do so by setting up an AdWords Placement Targeted campaign.

You'll be able to bid for placement on either a CPM or CPC basis across various channels on softwareprojects.com. All of our placements are exclusive to Google and optimized to ensure a high click thru rate so that you get the most bang for your buck.
So... you thought Google is the "be all" and "end all" search engine?
You love Google's simple interface and think there's not much to be done on the user interface level?
Think again!
Meet
SearchMe
. The second generation of visual search, that actually works.
We've all seen how Ask.com and MSN Live have been incorporating built-in images/video search as part of search results...
SearchMe takes it up a notch. All search results are displayed as screenshots, with a Mac like sexy panning interface.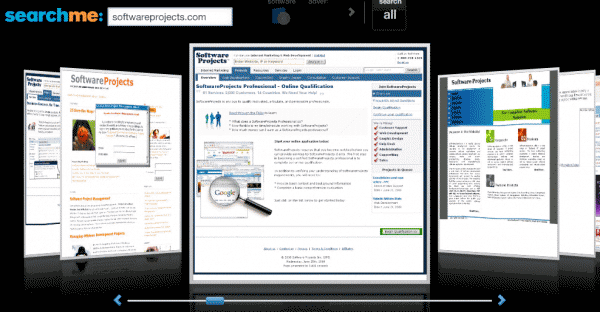 It's kind of like
snap.com
, only much better :-)
One of the cool features of SearchMe, is the ability to create custom stacks (collection of browser pages, images, videos) and embed them on your blog -
-
Thank you Steven for the heads up
If you're looking to do
Affiliate Marketing
with commodity items, you need merchant product feeds.
Product feeds are spreadsheets provided by a merchant (Amazon.com, Overstock.com, Zappos.com etc) listing every single product available for you to promote and earn a commission for.
While you only need a single link when you're building a NetFlix landing page, a lot more comes into play when you're setting up a niche shoes store, virtual shopping mall or comparison shopping site, displaying hundreds of products from multiple vendors.
CommissionJunction
,
LinkShare
and
ShareASale
are the top affiliate networks offering merchant product feeds. Signup for an account with all three so that you cover all merchants in your target verticals.
Once you have an account, apply for the merchants you are looking to promote. You are also going to have to apply for FTP product-feed access (One-time $200 fee with CommissionJunction, $250 with LinkShare and free with ShareASale).
A typical merchant product-feed includes:
Product ID
(merchant specific)
Product Name
Product Description
Product Image (small)
Price
Affiliate URL
Category (merchant specific)
Some feeds also include information about the Product Manufacturer and the Manufacturer SKU.
Once you start handling product feeds, you'll find just like anything else in life, product feeds are not perfect.
Merchants try to keep all information in the product-feed accurate and up to date, but there are often price mismatches, broken urls, missing images, bad descriptions and proprietary categories.
As an example, here's a record from today's
Buy.com
product-feed for the "Desktop Computers" category of products -

Yes, you're looking at a phone, incorrectly categorized as a Desktop Computer.
Another thing to note is that
Buy.com
, much like all other merchants, doesn't provide all information they have about a product as part of the product data-feed.
Here is how the exact same product is represented on the Buy.com website: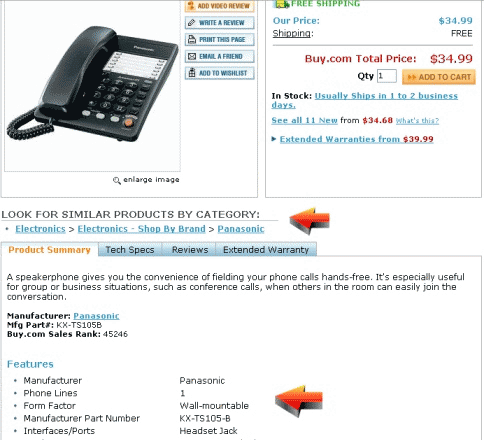 Notice the brand-level categorization, detailed product summary, tech spec, warranty information and reviews, all of which missing from the product feed.
So before you integrate a merchant's product feed with your website, you have to scrub it. And since you'll be dealing with thousands of records, automation is key.
6 Steps to Scrubbing Product Data Feeds:
In general, Product ID, name, price and url are the only four fields you can rely on in a merchant's product feed.
Images are going to be too small, descriptions too short and categories - merchant specific.
The steps to effectively downloading and processing data feeds:
1.
Download
merchant product data feed from FTP site
2. Write a script that will iterate through all data feed listings and
identify the unique product
each listing is describing.
Hint: If you operate in an industry that has universal product SKUs (books, laptops etc) it's easy. However if you're dealing with shoes, magazines or jewelry - you'll have to employ some "fuzzy logic" to identify two listings referring to the same product, each using a different name.
3. Identify a website that offers the best (largest size)
images
for products in your target industry. Check copyright regulations and if all is well, write a script that will harvest the larger than life images and match them to products.
4. Identify a website that offers the best (longest)
descriptions
for products in your target industry. Check copyright regulations and if al is well, write a script that will harvest the descriptions and match them to products.
Important note about descriptions - Having unique descriptions is a lot better than scrapping the same description all of your competitors use. If you have the budget, invest in paying a writer to write new descriptions for your website, at least for the most popoular products. You'll score points with the search engines as well as with your website visitors.
5. Decide on a
category structure
for your website (get ideas for competing sites in your industry) and then write a script that will match merchant categories to yours.
Every merchant is going to have different names to their categories and in order to have products from different merchants show up under the proper categories on your website, you'll have to develop a matching table.


6. Write a basic script that will iterate through all destination urls looking for a specific phrase to indicate the
page loaded successfully
. Automate this. If you're sending PPC traffic to your website, you're going to want to know when a destination URL stops working - so you can stop promoting that individual product.
-
That's it.
Affiliate Marketing with Product Feeds offers huge benefits, but requires a lot of planning, testing and ongoing monitoring.
Are you using product feeds as part of your affiliate marketing strategy?
Please comment and let me know if you are following a similar system or if you've simplified things.
View 3 Comment(s)