Setting up a
new website
or
landing page
?
For the sake of your (search engine)
Quality Score
, (human) Credibility and (financial) bottom line, there are exactly six pages your site must include.
#1. Home Page
: Purpose of page = Get user to take action.
In today's short attention span, Web 2.0 world, there's no time for fluff.
Your Home Page is the gravity point of your site and your shot at convincing the end-user to stay on board for more than a few seconds.
Keep it clean, clear and to the point.
* If you're building a web service, let users "use", "test drive", or at least "watch a demo video" on your site's home page. Forget about requiring registration first. It rarely
works
.
* If your website is promoting a product/service, include information about (a) What you are selling, (b) Why it is the best product/service for your prospect, (c) Answers to common questions + Credibility boosters, and (d) Call to action.
#2. About us Page:
Purpose of page = Build credibility.
The "About us" page is the second most important page of your website.
Our experience taught us first time users always click on the "About us" page, to learn more about the company, BEFORE they complete an order, BEFORE they signup and BEFORE they decide to trust your company.
Don't even think about using a template for this page. Be honest, include personal information about the founders, how and why the website was launched and what is the vision behind the site.
Include information about your company's geographic location, years in business, business model and best way to get in touch with you (Yes, you want all this information on the 'About us' page, even if you have a 'Contact us' page).
#3. FAQ Page:
Purpose of page = Close the sale.
The user checked out your "home page" and they read the "about us" page. They're still not sure this is the right product/service for them, so they turn to your FAQ page.
Don't have an FAQ page? You just lost them.
The single purpose of your FAQ page is to answer any questions your prospect might have, further re-iterating why your product/service is a great fit.

#4. Privacy Policy Page
: Purpose of page = Reassurance.
Straightforward, but definitely a must have.
You can grab a template
here
Users are going to skim through this page to ensure there are no gotchas,
associated with using your product/service.
#5. Terms and Conditions Page
: Purpose of page = Protect yourself.
Don't underestimate this one. Make your T&C page as detailed as possible, so that you protect your interests. It's a good idea to have your legal team write this page for you.
If you're on a tight budget and can't afford a legal team, search for a site that is similar to yours, study their T&C and write yours accordingly.
#6. Contact us Page
: Purpose of page = Reinforce Credibility.
The "Contact us" page is only on this list because not having a "contact us" page is a major red flag.
No need to go crazy with your contact page. Include more than one form of contact (i.e. Phone and Email, or Email and Snail mail) and make it very clear that your company is always available to answer any questions, comments or concerns.
--
Every single one of the web sites and landing pages we create, include these six must-have pages.
If your sites are missing one or more of the 6 must-have pages, go ahead and add them now. You'll thank me later.
View 26 Comment(s)
Generally speaking there are two types of content -
Static Content:
Your blog posts, "about us" page, articles etc.
Dynamic Content:
Your blog post comments, Stats, Search results etc.
By static content I am referring to content that is NOT frequently updated while dynamic content stands for content that is frequently refreshed (daily, hourly, in real-time etc)
Static content is typically stored as raw .html files, whereas dynamic content requires some form of php/asp/jsp computation coupled with database access, before the page can be served back to the end-user.
To improve the performance of your website, you should do everything you can to minimize database access and cache all dynamic content as static.
Most
CMS Systems
employ built-in caching so that frequently accessed articles/pages are automatically cached to disk, eliminating the need to access the database everytime a page is served back to the user. But please -- don't rely on your CMS system and call it a day.
We just did a site review for a client and found every single page was accessing the database 6 (!) times. And that includes pages like "about us", "privacy policy", as well as the home page and "contact us" page.
So, when you're done combining all .js to a single file, optimizing your images for fast loading, combining all .css to a single file and moving scripts to the bottom of your html files, analyze how many times you're hitting the database per every page load and work on reducing this number to the bare minimum.
I've talked to more than a few web site owners that are convinced the topic of their web site is so boring that it would be impossible to create any type of linkbait or viral content. Although some topics are much easier than others for generating linkbait, the truth is that no matter what topic your web site covers, you can still create at least one great piece of linkbait. The key to accomplishing this is thinking outside the box and figuring out a new and creative way to present some of the information your topic covers. If you still don't believe me, let's take a look at an amazing piece of linkbait from one of the least exciting industries around:
dairy
.
CheddarVision.tv
is the creation of
Westcountry Farmhouse Cheesemakers
. The beauty of this linkbait is that the web site itself is extremely simple: a single webcam which allows people to watch a lump of cheddar (which has been nicknamed Wedginald) age in real-time.
So, how successful has this web site been? According to a quick check of Yahoo, the web site has gathered over
16,000 links over the last nine months
(which has pushed it to the number three position in Google for the term
cheddar cheese
). Additionally, according to a
BBC article
,
over one and half million people
had viewed the web site during the same time period.
In addition to taking an extremely creative approach to a normally boring subject, CheddarVision is a great example of linkbait for two other reasons:
1)
Socially Optimized
: As you can see from the screenshot, CheddarVision is designed in a way that makes it easy to promote via all of the major social media outlets. From the homepage alone, people can easily share CheddarVision with their friends through the following social media web sites: Facebook, MySpace, YouTube, Digg, Reddit, Newvine, Del.icio.us and Google Reader. Additionally, the top right corner let's people spread the word by email or sign-up to be informed about updates via email.
2)
Drives Traffic to the Desired Homepage
: The other thing that I really like about this web site is that it is setup in a manner that it allows it to drive a lot of traffic to the web site it was designed to promote. Because it's on a separate domain, visitors would not necessarily find the
web site
that it was designed to promote. However, thanks to some clever links (not only do the links at the top of the page lead to the Cheesemakers homepage, but also a red button appears under the television that eventually leads to the homepage), this page is able to send a majority of its visitors to a desired target (where they can be converted into customers).
View 1 Comment(s)
If you are looking for sources of inspiration for your next piece of linkbait, check out the free to use data repositories below. As long as you can do a little outside of the box thinking (
obviously, just copying the data available will get you nowhere
), you should have no problem coming up with a great piece of linkbait: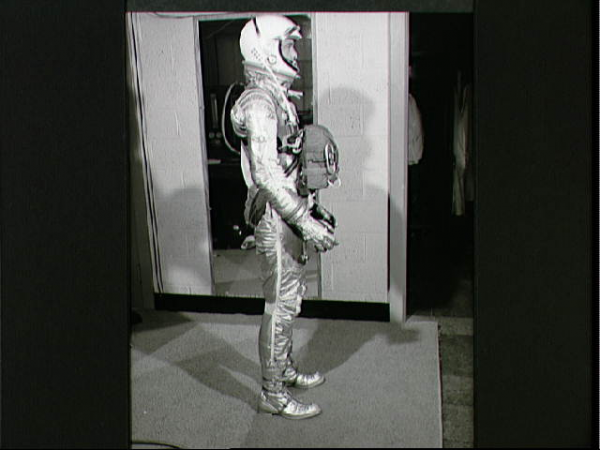 JSC Digital Image Collection
: This collection of more than 9000 NASA press release photos spans the American manned space program, from the Mercury program to the STS-79 Shuttle mission. In case you didn't know,
Digg and Reddit users love photos of space.

Footnote
: "At Footnote.com you will find millions of images of original source documents, many of which have never been available online before." Thanks to their partnership with Archive.gov, they offer over 17 million documents. With that amount of information at your fingertips, how could you not generate some great linkbait?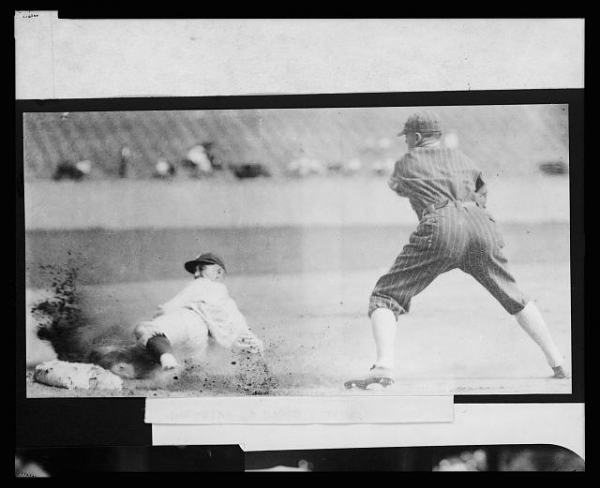 Prints & Photographs Online Catalog
: Thanks to the sheer amount of public domain photographs available, it would be possible to make some type of historical or other linkbait for virtually any subject.
For many more sources like the ones listed above, be sure to add
ResourceShelf
to your RSS reader!
As I've discussed
before
, one of the best ways to grow as an internet marketing is to study what is working for other internet marketers and then apply the knowledge you've gained to your own internet marketing efforts. Although directly copying someone else's work is unethical and ineffective, studying what they do and applying it in your own way is a powerful technique.
A great case study for internet marketers is the 45n5
Top 100 Make Money Online
Blogs list. The list combines a blog's PageRank, Technorati Ranking and Alexa Ranking (known as 45n5 Rank) and then displays the blogs in order (as shown below):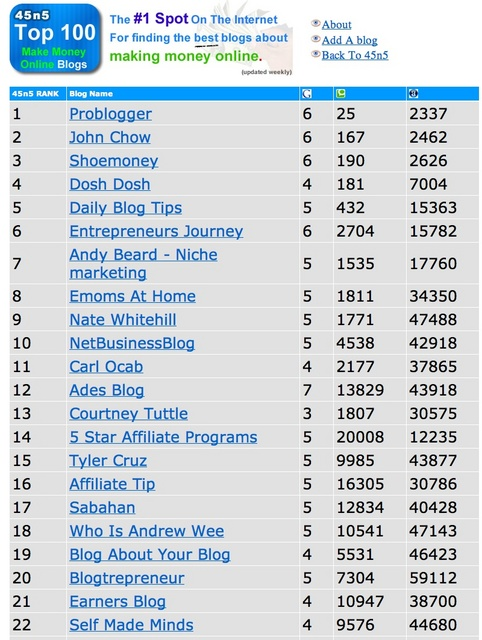 So,
why is this a great piece of linkbait
? To begin with, it's
useful
. Mark (the creator of the list) even explains how it can be useful to bloggers and advertisers at the bottom of the list: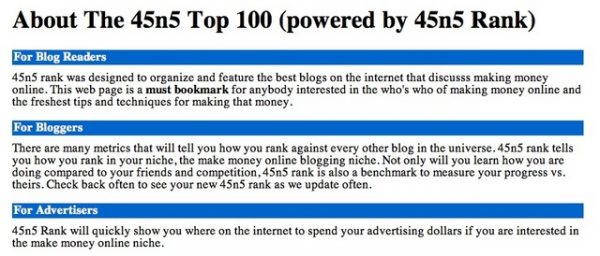 In addition to creating a useful piece of content that makes bloggers want to link to it (in many cases, to show off their ranking), Mark also went the extra mile and promoted his list via email. Judging by the number of links that Mark has received, this extra effort really paid off. Here is a video of Mark explaining how he ran his email promotion campaign:
Mark also expands on the results of his promotion campaign in this
follow-up post
(my only suggestion would be to
automate the response process
for people requesting to be added to the list).
View 1 Comment(s)
As an internet marketer, chances are you are already aware of the many tools that are designed for the sole purpose of helping internet marketers find new niches to build blogs or web sites around. Some of these tools are free, while others require a one-time or monthly payment.
Although there are many great tools for internet marketers to choose from, there are other ways for internet marketers to discover new, untapped niches. By using methods other than tools that are marketed directly to internet marketers, you can find niches that are not being shown to the thousands of other internet marketers using the mainstream tools.
A great example of finding other ways to discover new niches is
Can't Find on Google
.

The sole purpose of Can't Find on Google is to give people a place to share information that they were unable to find when they were using Google. The web site allows anyone to post what they were searching for, the search terms they used and any comments about their experiences while searching through Google. Once their post is made, people can respond and help them find what they are looking for (if it actually exists anywhere on the internet).
Even though this web site was designed for the average Joe, it can be a goldmine for any internet marketer when used properly. Obviously, if someone can't find what they are looking for when they type in specific search phrases, there is a niche that not only has no optimized web sites, but also has people that are interested in it.
As the web site owner discusses in the About Us section, as the web site has grown in popularity, it has been the target of an increasing amount of spam and junk. Although you will have to wade through a fair amount of junk on the web site, if you take the time to look, I guarantee you can find at least one new niche to build a blog or web site around. Personally, I spent
less than ten minutes
reading through the posts on the site, and within that time period, I was able to find three niches that I could easily build a web site around.