Call us Toll-Free:
1-800-218-1525
Email us

Increase Your AdSense CTR by Using a Little Variety

Tyler Banfield, 09-20-2007
When launching a new blog, forum or web site, one of the main goals that internet marketers have is converting visitors (traffic from PPC, referring sources, search engines, etc) into users. You may think that forums are the only place that have users, but in my opinion, a user is any individual that regularly returns to your blog or web site (and possibly contributes content such as comments, reviews, etc).
Although users are vital to the success of a web site, they do present one downside:
they quickly become ad blind
. In case you are not familiar with the term ad blind, it refers to regular users who do not click ads because they are so used to seeing them. Although you may have high volumes of traffic, if the majority of this traffic are users, your ad revenue is not going to be as high as you would like it to be.
For many blogs, forums and web sites, the best way to counteract this issue is by using variety. Since the majority of new web sites use Google AdSense as their primary form of monetization, there is a new
free tool
that makes it simple to rotate the color scheme of your AdSense units. As an example, here are some of the colors schemes that DigitalPoint rotates between to help increase their AdSense CTR:


Although DigitalPoint uses their own system to rotate through AdSense color schemes, if you are looking for a free, simpler solution, then
AdSense Juggler
is the answer for you. As you can see from the screen shot below, AdSense Juggler is extremely easy to setup and implement: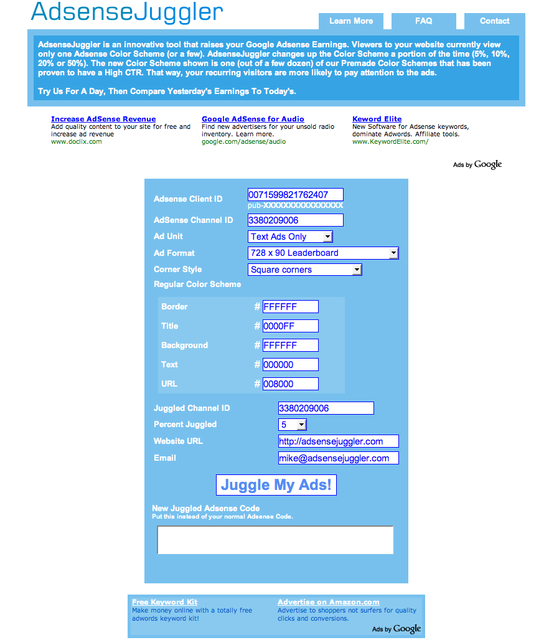 So, if you are struggling to increase your AdSense CTR, give AdSense Juggler a try and leave a comment once you've seen the results from it.
Enjoyed this post?

Subscribe Now to receive new posts via Email as soon as they come out.