The Perfect Shopping Cart

Adrian Singer, 11-26-2007
If you're selling more than a single product/service on your website, you need a shopping cart.
A shopping cart facilitates a virtual "cart" to which users can add products and then "checkout" - paying for all items in the cart.
SoftwareProjects recently completed a six months survey asking merchants in various industries, to compile a wish list of
The Perfect Shopping Cart
.
Here are the results of this survey:
== General features:
+ Instant integration - Go live in less than 10 minutes
+ No installation required (hosted model)
+ Full customization of every single user interface element
+ Full customization of all system email messages
+ Never redirect customer to another domain & No third-party cookies
+ Support unlimited product options (size, color, free text fields etc)
+ Store and provide full access to customer information, addresses, transactions and credit cards
+ Web based administration console
+ Multi lingual support
+ Support coupons (one-time and expiring)
+ Support all common payment options (credit cards, echecks, wire transfers)
+ Support all common payment gateways (authorize.net, linkpoint, paypal)
+ Allow customers to prepay or postpay, keeping a running balance for each customer
+ Support recurring payments (subscriptions)
+ Full access to database
== Adding Items to the cart:
+ Single click 'add to cart'
+ Single click 'delete from cart'
+ Two click 'update quantity'
+ Allow 'add to cart' without requiring customer to login
+ Once customer logs in, merge temporary cart items with any items customer previously added
+ Clean 'add to cart' link that can be embedded in emails, forums, chat
+ Save shopping cart content for at least 365 days
+ Show how many items in cart when customer revists the site
+ Support for InstantUpsells, OneTimeOffers
== Checkout:
+ One page checkout
+ Two clicks to complete checkout (if customer is logged in)
+ Checkout from 'view cart' screen (no need to click proceed-to-checkout)
+ Ask for customer name & email first, so that we can follow-up if cart abandoned
+ Allow updating quantity & deleting items on checkout screen
+ Allow updating shipping method on checkout screen
+ Allow picking a previously used shipping address on checkout screen
+ Allow picking a previously used creditcard on checkout screen
+ Show 'customers who purchased this also purchased that' recommendations on checkout screen
== Data Import/Export
+ Import customers, orders and products data from third party shopping carts (InstantEStore, UltraCart, XCart, eBay etc)
+ Export to Endicia Dazzle (printing shipping labels)
+ Export entire database, including all customers, transactions, products, orders and payment methods at any time
== Screens and Process flow
(
enlarge image
)
: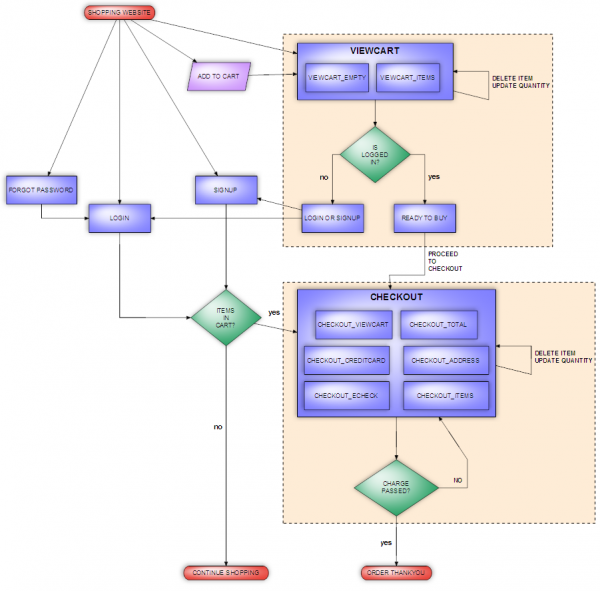 --
These features and process flow served as the blue-print to the Software Projects
Shopping Cart
, currently powering 143 merchants and rapidly growing in popularity.
If you're on the lookout for that perfect shopping cart, be sure to give us a test drive.
| | |
| --- | --- |
| | darklow, 11-29-2007 |
It is also a good idea, that we implemented on our site: you can also go to checkout and fill all needed information without any registering, if you are not registered or logged in yet, and after successfull order, we ask user if he want to save all data and make new account for further purchases... Saves time for user, and if he eally don't want to register, we dont push him to do it...
| | |
| --- | --- |
| | Adrian Singer, 11-29-2007 |
Darklow - if I understand you correctly, you are suggesting getting rid of the "signup" screen as a separate step and incorporating that into the "checkout" screen?
| | |
| --- | --- |
| | darklow, 11-29-2007 |
I am suggesting an alternative, so users can save time, if they don't want to register and they are sure the are making one time purchase...

We made this because there were situations user cannot register, spam assassins catch confirmation mail, mail service suddenly not working and so on, so in such situation quite often we are loosing customers...

If looking on the flow, then in our project "signup" screen is after "Order thank you" block. In other words - in our shop/project registration is NOT necessary. However users are also offered login or sign up also before checkout like on your flow. By statistics on our orders registered users, with unregistered are 60/40.

Checkout --> Order thank you --> Offer: Register and save all your data for further purchases.
| | |
| --- | --- |
| | EllisGL, 11-30-2007 |
My perfect cart mind map is at least 5 times longer in features...But I noticed several things I didn't add.. I'll have to do that later.
| | |
| --- | --- |
| | Vepras, 11-24-2009 |
At me on a site too as that for users is not present registration. The simple form of registration of the order and only. I consider that it correctly, after all itself never I fill these forms)), I think they take away a lot of time.
Enjoyed this post?

Subscribe Now to receive new posts via Email as soon as they come out.