How to register SSL Certificate with VeriSign

Dawn Rossi, 09-15-2008
An SSL certificate contains the following information:
* The domain name for which the certificate was issued.
* The owner of the certificate and the domain name.
* The physical location of the owner.
* The validity dates of the certificate.
When you connect to a secure web server such as
https://softwareprojects.com
, the server authenticates itself to the web browser by presenting a digital certificate. The certificate is proof that an independent trusted third party has verified that the website belongs to the company it claims to belong to. A valid certificate gives customers confidence that they are sending personal information securely, and to the right place.
When you install the SSL certificate on your website, visitors to your website will see a yellow lock icon, identifying the pages are secure. It's another way to build trust, especially when asking users to input sensitive information such as credit card information, SSN, home address etc.
SSL Certificates are widely used on payment forms. We found they help with basic landing pages as well, significantly increasing conversion rates.
As part of this guide, I will provide you with step-by-step instructions for registering your SSL certificate with VeriSign.
Why VeriSign?
Yes - there are cheaper SSL providers out there, but many are not recognized by older browser versions. This means that the $200 you save, will result in a percentage of your users getting welcomed by a scary dialog saying your SSL certificate cannot be verified.
Step 1 - Register a domain
This is a no brainer.
Step 2 - Verify Whois information and make it public
Your domain whois information must match the company name and address you'd like to list on the SSL certificate.
Update your whois information if you need to (login to your SoftwareProjects account and click on the domain, or use your existing registrar interface) and make sure your whois information can be publicly accessed by
whois.net
If you have private-registration, you MUST turn it off prior to applying for the SSL certificate. You'll be able to turn private-registration back on once the certificate is approved.
Step 3 - Generate private key
Login to your server via Telnet or SSH and run this command:
openssl genrsa -out www.mydomain.com.key 1024
Replace mydomain.com with your target domain name.
You'll be asked to choose a password. Pick any password - it is only used throughout the registration process.
Now enter this command:
openssl req -new -key www.mydomain.com.key -out www.mydomain.com.csr
Again replace mydomain.com with your target domain name.
You'll be asked to provide the country, state, company name and domain name. Make sure you use the EXACT same information as what whois.net shows for your domain. Make sure you include the
www.mydomain.com
and not just mydomain.com.
Step 4 - Buy Certificate
Visit VeriSign at
http://www.verisign.com/ssl/buy-ssl-...tes/index.html
and click on the Buy button under Secure Site (bottom right box)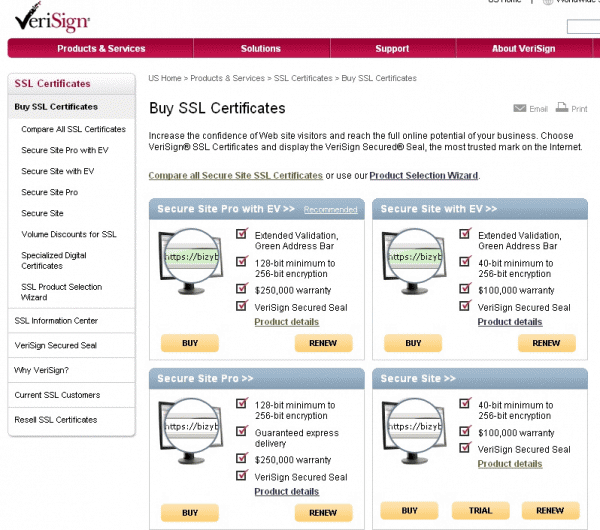 Unless requested otherwise, select 1 year and uncheck "Extended Validation SSL" and "Ensure Strongest Encryption". Cost should be $399/year.
Under Technical details - enter your information - so that you can receive communications regarding this certificate request as it goes through processing.
When asked to choose a server type - select Apache.
VeriSign will ask you to paste the
www.mydomain.com.csr
file you previously generated.
Step 5 - Update Contacts


I listed this as a separate step because people often mess it up -
Step 4 of buying a certificate on VeriSign is titled "Contacts". As part of this step, make sure the organizational contact, address and details match your whois records.
When we register certificates at SoftwareProjects, we always list our contact information under Technical contact and the client contact information under the organizational contact.
The organizational contact MUST have an email-address under the target domain. So if you are registering mydomain.com, it is vital that you use
someemail@mydomain.com
as the organizational contact email-address.
-
If you've followed all steps, you can now complete the process and submit the SSL certificate request. VeriSign will contact you (technical contact email address) if they need any additional documentation to approve the request.
Once approved, you will be provided with the certificate files which can then be installed into your web server.
Did you know?
When you
buy ssl certificate
with SoftwareProjects, setup, coordinating with VeriSign and installation of the certificate on your server is included.
| | |
| --- | --- |
| | Mike Peters, 01-04-2009 |
Important thing to note about VeriSign -

All certificate requests and most renewals require manual approval and VeriSign offices are closed Saturday and Sunday.

Plan on 2 business days to get a certificate approved and avoid waiting for the last minute.
| | |
| --- | --- |
| | Dawn Rossi, 06-22-2009 |
| | |
| --- | --- |
| | SICS, 10-04-2009 |
| | |
| --- | --- |
| | Steven Scott, 01-18-2010 |
Important note: when generating the CSR file, when it asks for the Common Name, you must not enter YOUR name, but the DOMAIN name (ex: www.domain.com).
| | |
| --- | --- |
| | Jeremiah Gloria, 09-25-2011 |
| | |
| --- | --- |
| | eze joy, 03-15-2015 |
Please I want to register Ssl,and write the ssl test.please how do I go about it
Enjoyed this post?

Subscribe Now to receive new posts via Email as soon as they come out.