Call us Toll-Free:
1-800-218-1525
Email us

How to run FreeBSD on Windows using VirtualBox

Mike Peters, 09-04-2009
Step 1 - Download and install VirtualBox
VirtualBox is a general-purpose full virtualizer for x86 hardware. It allows running any flavor Unix system on a Windows box.
You can download the latest version of VirtualBox for Windows Hosts
here
Step 2 - Download FreeBSD 6
Download the single-file dvd iso here
FreeBSD 6.4 download repository
Download
7-zip
and extract the 6.4-RELEASE-i386-dvd1.iso.gz file to a folder on your machine
Step 3 - Create a new FreeBSD VirtualBox machine
Create a new VirtualBox machine, selecting BSD as the operating system and FreeBSD as the version.
Click Next to accept all defaults, but when you get to the 'Virtual Disk Location and Size' screen, change the disk size to 50GB.
Double-click the new machine to start it.
Step 4 - Install FreeBSD on new Virtual Machine
You will be greeted with a 'Welcome to the first run' wizard.
A 'Select Installation Media' screen will then popup. Pick the 'Image File' option, click the icon and locate the folder on your machine where you previously saved the FreeBSD iso file.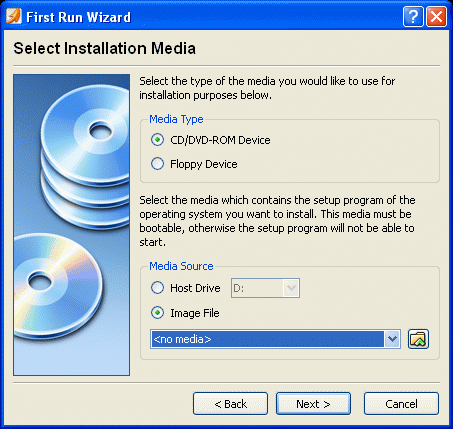 Click next a few times, keeping all default options.
FreeBSD install will boot in the VirtualBox
Select OK for United States
Select Standard Installation
Click A for 'Use Entire Disk', followed by Q
Click Enter for BootMgr
Click A for 'Auto Defaults', followed by Q
Select option 4 (Developer) and Yes to install ports
Select 1 for Install from CD
You will see a message saying All file information saved successfully. FreeBSD install will then begin running.
Step 5 - Configuration
Select YES to configure Ethernet network devices and pick your Ethernet card on the next screen
Select YES for DHCP
Select NO for network gateway and NO for iNetD
Select YES to enable SSH login
Select NO for FTP and NFS server/client
Select NO for all remaining questions
Pick a password for your root user
From the VirtualBox menu, select Devices - then Unmount CDRom
Enter X to exit install and reboot the FreeBSD virtual machine
| | |
| --- | --- |
| | mouse, 06-30-2010 |
After installing I want to be able to ssh in to freebsd from windows Are the instructions the same?
Enjoyed this post?

Subscribe Now to receive new posts via Email as soon as they come out.