Call us Toll-Free:
1-800-218-1525
Email us
Four Elements of an Effective 404 Page

Tyler Banfield, 09-13-2007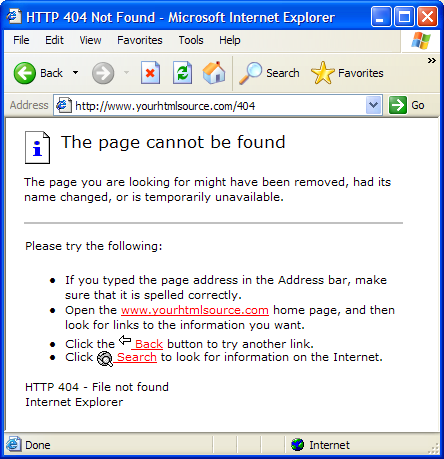 If your web site's 404 page looks like the one above,
it's time to make some changes
!
Having a custom 404 page is an effective way to ensure that you don't lose visitors as a result of a broken link or mistyped URL.
Here are the four elements that you should include on your 404 page to keep your lost visitors from disappearing:
Explanation
: Although many people simply place redirect to their homepage on their 404 page, this is not a good experience for your users. If they click a link and automatically end up back on your homepage, chances are they are going to be confused and assume they clicked the wrong link. If this cycle continues, it won't be long until they leave your web site with a flustered look on their faces.
Instead of redirecting, simply write a sincere, easy to understand explanation of why they are seeing your 404 page.

Navigation
: Instead of making your users click the back button, provide them with links to the main areas of your web site. You don't want to overwhelm them by displaying every single link on your sitemap, but it is important to give them options. By giving them some general options, you can help them find their bearings and hopefully get back to the content that they want to view.

Search Box
: In case the links don't satisfy the needs of a specific visitor, why not give them the option to use their own words to find what they want. By providing a search box in addition to navigation links, you can give your visitors the opportunity to proceed with whichever method is more comfortable for them.
Contact Form or Email Address
: Although this may seem like overkill, providing a method for your visitors to contact you when they're lost shows that you are genuinely interested in providing them with a positive experience on your web site. While it may not generate many emails, simply taking the time to give your users the option to directly contact you will help you retain their trust.
| | |
| --- | --- |
| | Mike Peters, 09-15-2007 |
One easy way to fix the "default 404 page" is redirecting 404 not found errors to your site's search page, setting the search query to the URL of the page.
For example, here's an attempt to access "mikepeterss" under SoftwareProjects.com
Notice how Google's Custom Search automatically corrects the misspelling and suggests a new search string:
http://www.softwareprojects.com/mikepeterss.php
Enjoyed this post?

Subscribe Now to receive new posts via Email as soon as they come out.