Increase Productivity - Go Dual (or triple, or quad...)

Mike Peters, 09-08-2007
Serious about your online business?
Studies have shown having dual monitors greatly increases productivity. If you're still stuck in middle ages with a single widescreen, it's time to make the switch.
Here at
Software Projects
, we found having two widescreens (19" or 21") really makes a big impact on your productivity.
You could keep your email, chat, logs and other interruption triggers on one screens and do all your main work on the other one. Train yourself to look at the main screen while you focus and you're truly going to feel the difference.
Want to take it to the extreme? Depending on how many tasks you have to juggle throughout the day, you could try a triple or even a quad setup.
One thing's for sure, once you get used to the benefits of having additional workspaces, there's no going back. Nothing beats having multiple workspaces which you can divide by category.
Everyone are sharing pictures of their office setups, so I'll throw mine in to the mix. Nvidia Quatro Quad setup with 4 Dell 19" flatscreens, running on a Sony PentiumD. I divide my workspaces to:
Screen 1: Email, Chat (Interruptions)
Screen 2: Random surfing (Research)
Screen 3: Logs, Excel, Calculators (Monitoring & Planning)
Screen 4: SSH, FTP (This is where the magic happens)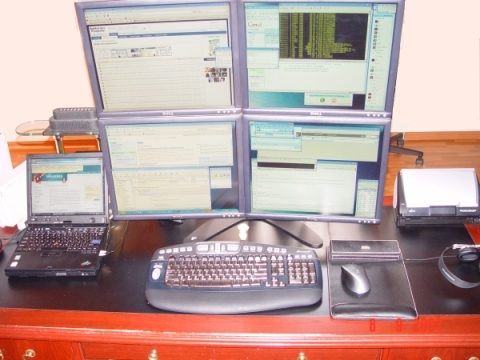 | | |
| --- | --- |
| | Tyler B, 09-11-2007 |
Out of all the office setup pictures I've seen, this is by far one of the most impressive ;)
Enjoyed this post?

Subscribe Now to receive new posts via Email as soon as they come out.