Call us Toll-Free:
1-800-218-1525
Email us
The Art of managing Freelancers - Part 2 - Qualifying the bid

Mike Peters, 01-24-2014
Congratulations!
You created a rock solid
specification document
and posted it on
ODesk.com
,
Elance.com
,
Freelancer.com
or any of the other freelancer sites.
Within a matter of hours, you have dozens of bids from software engineers around the world.
All of them carefully reviewed your specification document and made sure it's a perfect fit for their skills before submitting their bid, right?
Wrong!
Canned Bids
Winning projects as a freelancer, is a numbers game. The more projects you bid on, the more likely you are to win a few.
Based on this logic, you should try to bid on as many projects as possible.
Unfortunately a lot of freelancers abuse the system, creating scripts for automatically submitting canned bids, to all new projects in their category.
Take a closer look at the bids you received. Do they mention anything specific about -your- project? Or could the same bid very well apply to any other project in this category?
Eliminating canned bids
In most cases, you don't want to work with a freelancer who didn't even take the time to read your specification document and submitted a canned bid, without ever stopping to think if this is a good fit with their skill-set.
One trick I use to easily detect and eliminate canned bids, is adding a request in the body of the specification document, that goes something like this:

When you bid on this project
,
start your bid with
"loglr.com is great"
,
so that I know you actually took the time to read this spec
.
This helps me in eliminating canned bids
.
If the freelancers bid doesn't include this text, I immediately know it's a canned bid.
Sometimes even though they didn't include the text, the freelancer might catch my attention with a stellar feedback review history. At that point, I give them a simple test, that usually goes like this: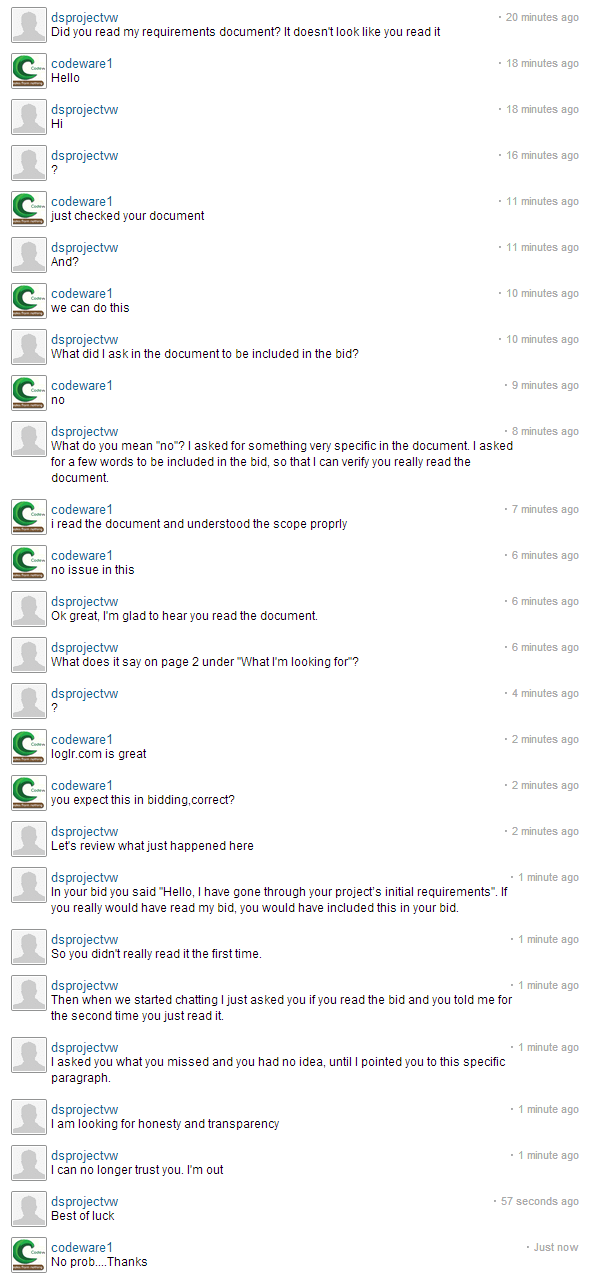 Shortlisting
After you get rid of the canned bids, you're left with freelancers who took the time to carefully review the specification document.
Open a message board and ask them the following questions -
1. Do you have experience creating similar apps/websites?
2. Can you share with me links to your previous work?
3. Do you have experience working with the programming language and platform I described in the document?
4. Who will be doing the actual work?
5. What milestones do you suggest?
6. How much time do you expect it will take to complete this project?
7. How will we communicate during this time?
If the freelancer answers to all of the above questions are satisfactory, shortlist them.
Pay close attention to their communication skills, how long it takes between each reply, how detailed are they and how well you understand them.
Communication is key.
Pick the best two or three
Narrow down the best matches, to a list of two or three freelancers.
You are going to award the project to all of them at the same time.
The freelancer who creates the best result, will be the one you'll continue to the following projects with.
Yes - I am suggesting you actually award and pay two or three freelancers.
Think of it as "cost of doing business". It's an essential price to pay, for finding the perfect fit for your needs.
You'll thank me later.
Enjoyed this post?

Subscribe Now to receive new posts via Email as soon as they come out.