Call us Toll-Free:
1-800-218-1525
Email us
The importance of Business Systems & Processes

Mike Peters, 06-09-2008
In the game of life, on your path to
financial freedom and beyond
, there are several levels you will have to go through.
Every level has its associated pay cap, as well as a unique set of required skills you'll need, so you can cross over to the next level.
I prepared a basic diagram to visualize this: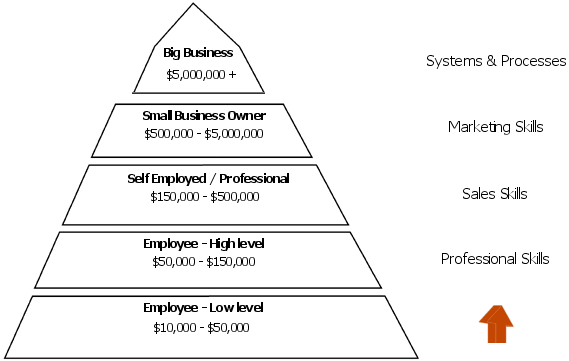 Level 1 - Employee Low level:
Starting out, these are your first set of paying jobs. No special requirements. You exchange your time for money. Since you don't have any skills at this point, you will typically be doing manual labour or other forms of basic clerical / administrative work.
To move to the next level: Develop professional skills
Level 2 - Employee High level:
Having developed your professional skills, your time is now worth a lot more to your employer. At the peak of this level, you can take home a comfortable $150k paycheck, although this will typically involve working long hours with a lot of stress.
To move to the next level: Develop sales skills
Level 3 - Self Employed / Professional
If you have good interpersonal social skills and can sell well, you can move on up to the self employed / professional / consultant level. While you're still exchanging time for money, you are now selling "your company's time". You may or may not already have a few people working for you. Either way, you get paid more for your company's time.
Problem is since you are an integral part of your business, indirectly selling your own time & skills, sooner or later you will hit a glass ceiling in profit earnings.
Robert Kiyosaki
("Rich dad poor dad") talks in depth about the difference between being self employed vs a business owner in his books.
To move to the next level: Develop marketing skills
Level 4 - Small Business Owner
Marketing is the name of the game here. As long as you have a decent product/service/skillset to offer, great marketing will enable you to get more customers in the door, repeatedly and consistently.
Learn how to joint-venture with others, attend seminars, develop your education and participate in a mastermind of like-minded individuals.
To move to the next level: You need Systems & Processes
Level 5 - Big Business
Big Business is achieved when your business keeps growing rapidly without requiring your day-to-day involvement and hands-on management.
As is the case with every other game, crossing over from level 4 to level 5 is the most challenging task.
By the time you reach level 5, you have a thriving business, generating a comfortable living for you and your loved ones. You've built the business around your unique skills and learned how to best capitalize on your personal inherent talents.
Too many clients of SoftwareProjects get stuck in level 4 and can never cross over to level 5.
I'd like to dedicate this post to what it takes to grow a
big business
(8 figures and up), based on what I learned from the larger businesses we work with -
The key differentiator I've seen between level 4 vs level 5 type businesses, is the type of systems and processes that power each business.
Business Systems & Processes
If you're an affiliate marketer, you need systems for ongoing content development, keyword research, bid management and keyword-level conversion tracking.
If you're a merchant, you need systems for customer support, recurring billing, email delivery, commission tracking and customer relationship management.
Having the proper business systems in place is instrumental to your growth. A pilot cannot fly without a set of monitors and guages to guide the way and ensure everything is going well. In the business world - what gets measured - improves, what doesn't get measured - deterioates with time.
But having the proper systems in place is only half of the equation.
The second half is having a set of well documented processes (read "
E-Myth
") to automate the growth of your business.
For starters, sit down and take the time to carefully document every single process that comprises your business. Everything from exploring new niches, doing joint-venture agreements, launching new products, singing up affiliates, product development etc.
Sony, GM and HP, are some of the great companies that have survived through generations of different management, new employees and changing markets. While none of the original management team members is still with the company, well documented processes help to maintain the company's vision and its essence.
In the book "
Good to Great
", Jim Collins found the reason most companies made the leap from good-to-great, surviving and thriving across several generations with no end in sight, is because they were able to preserve company vision and internal processes over time.
To give a specific example, instead of having one of your technical people slap together a new product page and shoot you an email once the page is up for you to quickly review (as if you don't have a million other things to do), break down the process to steps, document each step and assign responsibility so that a new product can be launched without relying on you.
Launching a new product:
* Who writes the content
* Who checks it
* Who creates graphic design & html
* Who checks it
* Who uploads the content and how is it done
* Who checks everything was uploaded properly
* The order confirmation email
* The autoresponder
* Who places a test order and provides a stamp-of-approval prior to the product going live, confirming the product, order confirmation and autoresponder emails are all properly delivered.
Other processes to document:
* Split testing a sales sequence
* Recruiting affiliates
* New Product development
* Recruiting sales people
* Handling customer support tickets
* Ongoing quality assurance - placing test orders, submitting test tickets to customer support etc.
-
When documenting a process, use as many details as possible to explain each step. Write these manuals in a way where a new employee could pick them up and immediately follow the documented steps, without requiring any special training.
| | |
| --- | --- |
| | tob, 06-09-2008 |
Thanks Mike, this was an excellent post.

This is the type of help I am looking for as I expand my business from Self Employed.

I look forward to more posts from you.
Enjoyed this post?

Subscribe Now to receive new posts via Email as soon as they come out.