What is the essence of Internet Marketing?

Mike Peters, 03-21-2008
I recently received this email -
Quote:
I need to grow my online business.

I have a website about XXXXX XXX getting 5,000 visitors per month, grossing $15k to $20k.

Heard good things about you guys and would like to use you for Internet Marketing. I know I need to do pay per click on Google but what else do I have to do?
Great question that keeps coming up all the time!
There are so many different things you can do to grow your online business, clients often get lost in the details and either
fail to execute
or focus on the
wrong channels at the wrong time
.
Software Projects is a
Full service Internet Marketing
firm.
With 81 services, spanning the gamut of
Software Development
,
Email Marketing
,
PPC
,
Shopping carts
,
Media buys
and
more
, having done this since 1998 serving all
the big dogs
, we can afford to be unbiased.
We can afford to develop an Internet Marketing plan that will help a company get from point A to point B, without having to push for a single
"preferred"
channel. It's all about implementing the right technology at the right time, matching your current situation.
And so to simplify things, we developed a blue-print that encapsulates all elements of Internet Marketing.
It's a way to visualize the ingredients, flow and relationships of all Internet Marketing components.
It is what we refer to as -
the essence of Internet Marketing
: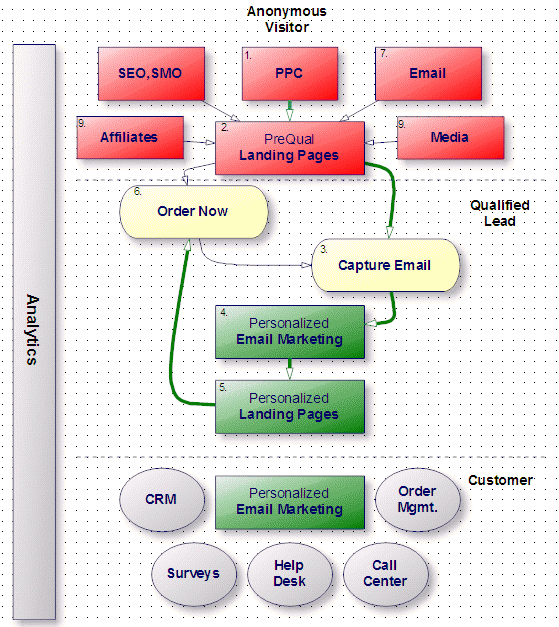 Now I know I said "to simplify things" and you're looking at this scary diagram going "hello?!"
But it's really straightforward:
Explanation


Step 1:


When a visitor lands on your website they are anonymous. You don't know who they are and unless they identify, you'll never be able to communicate with them again.
Your only goal at that point, is to convert the visitor from anonymous to qualified. You're selling an offer at this point, not the final product.
Granted it will be great if the anonymous visitor converts to a paying customer right away. But most aren't going to. And unless you turn them into qualified leads (email contact, rss subscriber, forum member etc) they are lost forever.
Regardless of the marketing channel you use to drive this traffic, always send visitors to a relevant landing page and focus on getting visitors to sign in.
Step 2:


Segment qualified leads and design marketing campaigns (emails, blog posts), offering the right offer for the right person.
Continually collect more information about your leads and customers, getting them to tell you exactly what they need.
Step 3:
Business Management. Use CRM, Help desk, Order manager, Affiliate manager and Product manager to streamline processes and put your business on auto pilot as much as possible.
Throughout this entire process, pay close attention to analytics and remember the golden rule -
What gets measured, improves with time. The rest deteriorates.

Where to start


Need more traffic?
==> You're in the
Red zone
. Start with PPC or SEO/Media if you're on a low budget.
Traffic is coming but low conversions?
==> You're in the
Yellow zone
. Focus on different ways to monetize your unique inventory.
Got a customer base but low repeat sales?
==> You're in the
Green zone
. Engage & provide personalized quality content.
Business is good but you'd like to streamline, optimize and reduce cost?
==> Congratulations - You're in the
Grey zone
. Outsource your cell center and help desk. Proactively ask customers what they need using surveys.
In Summary


If you're an Affiliate Marketer and all you're doing is pushing traffic to the merchant, you're missing out big time! Find a way to capture a prospect's email addresses (offer a free white paper / coupon / free membership in your community) so you can market to those hot leads again and again.
If you're a merchant, identify your biggest pain point and focus on that single area alone. There are always going to be a million things you'd like to change with your website. Focus is key.
-
Would love to hear your thoughts
| | |
| --- | --- |
| | Rob, 03-21-2008 |
I like your diagram. This is one of the best posts I read about Internet Marketing. I wish you would write more details about every step, but the diagram in itself is very helpful
| | |
| --- | --- |
| | Mike Peters, 03-21-2008 |
Thanks Rob!

I was trying to keep this post short, but we'll have others from the company elaborate on the individual components in future posts.
| | |
| --- | --- |
| | WebMaster Guild, 03-21-2008 |
How does this apply to companies like Digg? or Facebook?
| | |
| --- | --- |
| | Mike Peters, 03-21-2008 |
It doesn't.

Our clients are in the business of making money. Digg and Facebook are great sites, but we have nothing to offer companies who gauge success by pageviews or users versus cash in the bank.
| | |
| --- | --- |
| | Evan, 03-22-2008 |
Excellent diagram. Very well written, thansk for sharing.
| | |
| --- | --- |
| | Anup, 11-04-2010 |
Excellent Post Mike on essence of Internet Marketing .
Enjoyed this post?

Subscribe Now to receive new posts via Email as soon as they come out.