Affiliate System Commission Plans setup

Mike Peters, 07-09-2009
The
SPI Affiliate System
supports two types of commission plans:
Product Commission Plan
Pay affiliate X per every sale of the designated product
Affiliate Commission Plan
Pay affiliate X per every product sale that doesn't have its own specific commission plan assigned to it
-
You can think of it as the 'Affiliate Commission Plan' being the default pay, while the 'Product Commission Plan' allows applying specific rules to individual products.
For example, let's say you'd like to pay a certain affiliate 30% on all the sales they generate, except for the "Red Widgets" product where you have lower margin. On that product, you want the affiliate to be paid 10%.
You would create two commission plans: a 10% one and a 30% one.
Assign the 30% commission plan to the affiliate:

And assign the 10% commission plan to the individual product: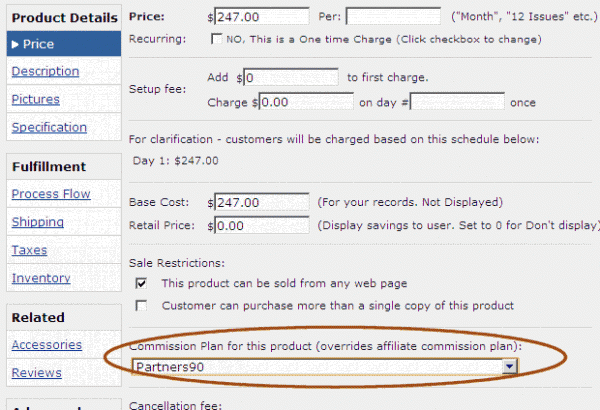 The affiliate will be credited as soon as the referred customer is charged.
Once you define commission plans, you can associate the same commission plans to multiple affiliates / products.
-
Now let's go over all the options you have when setting up a new commission plan: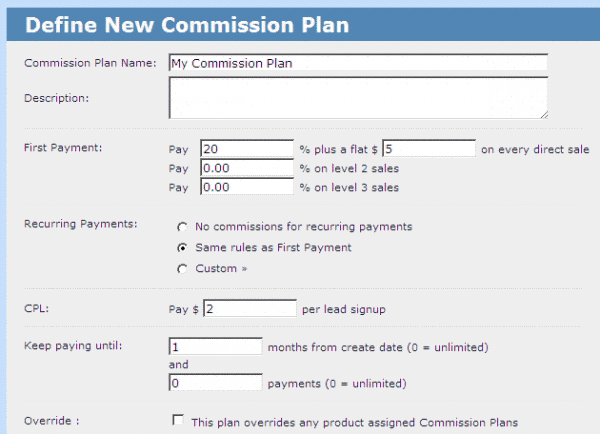 You can define different rules for the 'First Payment' vs 'Recurring orders'.
In the example above we're paying affiliates 20% on all sales plus a flat $5.00 fee and the same rules apply for recurring payments.
We're also paying $2 per every lead generated.
The 'Keep Paying until' section, allows you to control whether you'd like to keep paying affiliates for the life-cycle of the customer, or limit the number of pay cycles.
The 'Override' flag is useful when you have an affiliate where you'd like them to be paid a certain amount/percentage, regardless of any product-defined commission plans. This is typically used with partners.
| | |
| --- | --- |
| | Dan at Commission Crusher Blog, 01-23-2011 |
This looks like a great tool for varying the level of commission you pay based on product. This would be very useful in situations where you have significant price variation among products. Thanks for sharing!

Dan
| | |
| --- | --- |
| | vinoth, 07-04-2011 |
i need IT software projects title based in java to finish my project pls kindly help me
Enjoyed this post?

Subscribe Now to receive new posts via Email as soon as they come out.