CRM + Billing System + Payment Gateway Integration

Adrian Singer, 03-14-2008
When using the Software Projects
Customer Manager
,
Affiliates Manager
or
Vendor Manager
, you have a full-fledged
CRM
and
Billing system
at your finger tips.
The system displays all information about an individual customer, affiliate or vendor, under a single screen.
Access Customer information, Notes, Order status, Help desk tickets as well as all Financial transactions.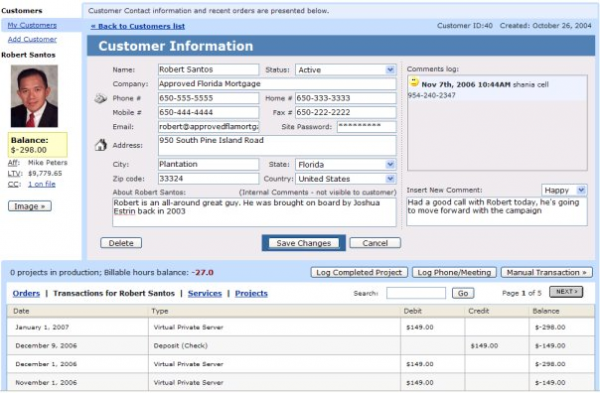 Customer Relationship Management:
To add a new comment, type your notes on the right side and click Save Changes.You can also set the customer "mood" with each comment, allowing you to later search all customers who are "angry" and offer them some TLC.


Orders:
All orders and transactions are automatically logged under each customer.
The Orders tab shows all recent orders, the status of each order and how long the customer has been waiting for an order to be fulfilled.

Check with your account manager on how you can streamline your fulfillment process using this system.

Transactions:
The transactions tab lists all
credits
and
debits
to a customer account.
Every single order will typically be comprised of two records: A debit followed by a credit -

Transactions are automatically downloaded from your shopping cart and displayed under the designated customer, affiliate or vendor account. The system maintains a running balance for each customer, affiliate or vendor.
Depending on your policy, you can assign customers with credit lines, allowing them to accumulate a balance to be paid later on.
If you'd like to manually record a new transaction, such as a Bonus or special deduction, click on the 'Record Transaction' button -

Refunds:


The system integrates with Authorize.net and LinkPoint payment gateways.
To issue a refund, open the Customer Manager and locate the customer you would like to refund.
Scroll down and click on the 'Transactions' tab to view customer transactions.
Click on 'Record Transaction' - select 'Refunds' and then select the transaction to refund from the drop down menu.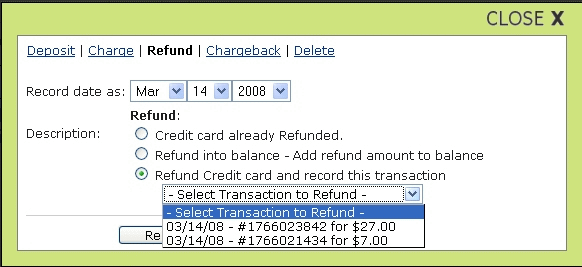 Enjoyed this post?

Subscribe Now to receive new posts via Email as soon as they come out.