Shopping Cart Customization

Adrian Singer, 03-19-2008
Are you still stuck running your multi million dollar empire with a $50
one-size-fit-all
shopping cart?
There are lots of great entry level shopping cart solutions out there.
If you're just starting out, have limited technical experience and no unique needs, then by all means check out
1shoppingcart
and
InstantEStore
.
That's how many of our customers got started in the Internet Marketing game.
Once you cross the $100k level, you're likely to find that your $50 one-size-fit-all off the shelf shopping cart, just doesn't cut it.
Whenever you want to customize or do something a little bit different, you'll hit a brick wall.
Quiz Question:
What do the 4 shopping carts below have in common?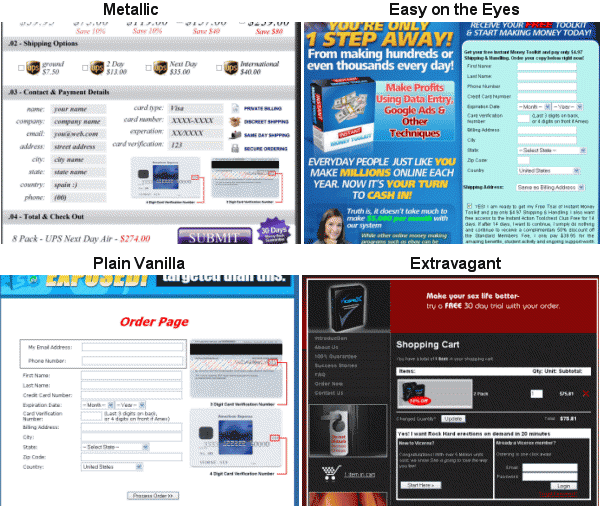 Answer:
They were all created using the
Software Projects Shopping Cart
.
Our
perfect shopping cart
allows you to customize every single screen and email message that is generated by the system, modify process flow, instantly integrate
one time offers
and other popular marketing principles.
Featuring
CRM + Billing system + Payment gateway integration
, multihomed hosting and a customer's back office.
So -- Next time you're planning your next multi million dollar product launch, or thinking of ways to reduce your shopping cart abandonment, be sure to give us a test drive.
Enjoyed this post?

Subscribe Now to receive new posts via Email as soon as they come out.