eNom down. 10m sites affected. Here's how to fix

Adrian Singer, 01-31-2009
eNom, the
second largest
domain registrar in the world, went down today - Saturday January 31, 2009, at around 3:30pm EST and has been down for the last 3 hours.
At least 10 million domains have been affected by this outage.
From the blogosphere
Reports have been popping all over the blogosphere and twitter -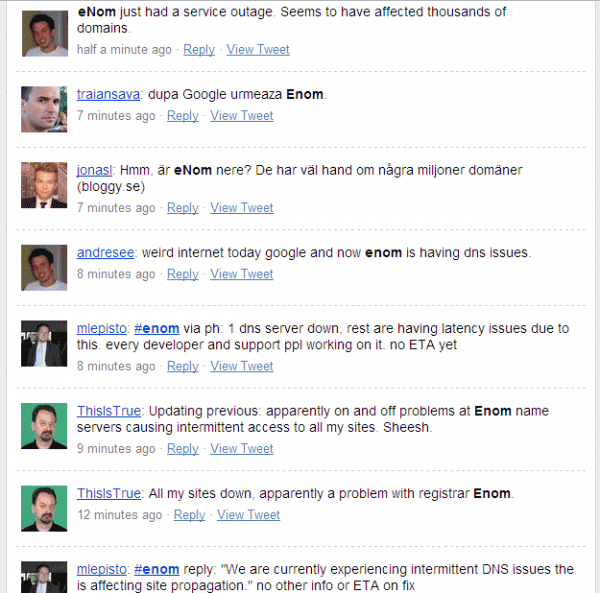 What does this mean?
When your domain registrar is down, no users are going to be able to access your site, unless they know your site's IP address.
Your registrar's domain servers are charged with converting YOURDOMAIN.com to an ip address your browser can connect to.
eNom has 5 distributed domain name servers. The idea is that if one DNS server is down, the others pick up.
Unfortunately as of this writing - all 5 eNom DNS servers are down.
A better domain registrar?
eNom's tag line is
"The most reliable DNS array in the industry"
.
Strange as it may seem, this statement may still hold true.
eNom is
great
. We've been fans of eNom for the past 5 years.
We also have domains with GoDaddy and NTT/Verio. If you pull-up uptime reports for the three registrars, you'll find that over the last two years, every single one experienced some form of outage with their DNS servers.
Bottom line is - no matter how big you are, "shit happens".
Hard drives die. Servers crash. And routers stop routing.
The solution is not looking for "a better" hosting company / domain registrar / server platform etc. Everything crashes eventually. The real solution is acknowledging things will fail and planning accordingly.
Avoid website outages
To avoid your website going down when something like this happens, you need to avoid any single point of failure.
Here at SPI, whenever we do web hosting, we use a
multi homed architecture
, where your site is replicated across at least two separate ISPs.
On the DNS level, we recommend using secondary domain registrars for all client domains. Yes - you can have your domain name setup with more than a single DNS service.
Michel wrote a step-by-step
how to setup a secondary domain server guide
, last September.
Contact us today
and we'll gladly help you set this up for your website / domain, so that you avoid any single point of failure and stay up, no matter what happens.
| | |
| --- | --- |
| | jan rokkjær, 09-11-2011 |
| | |
| --- | --- |
| | Dainius Pocius, 10-05-2016 |
and its down again. it seems its becoming tradition get down every year. This is second time they are down within last 2 years. Well, moving your domains from them, or course. And its down for few hours. Nice.
| | |
| --- | --- |
| | Dainius Pocius, 11-16-2016 |
And,,,,, down AGAIN! A month ago it was down for approx 20 minutes. I am interested HOW long it will be down again, Seems to become monthly tradition :( Time to change registrar I suppose.
Enjoyed this post?

Subscribe Now to receive new posts via Email as soon as they come out.