Call us Toll-Free:
1-800-218-1525
Email us
Linkbait in Action :: Top 100 MMO Blogs

Tyler Banfield, 09-12-2007
As I've discussed
before
, one of the best ways to grow as an internet marketing is to study what is working for other internet marketers and then apply the knowledge you've gained to your own internet marketing efforts. Although directly copying someone else's work is unethical and ineffective, studying what they do and applying it in your own way is a powerful technique.
A great case study for internet marketers is the 45n5
Top 100 Make Money Online
Blogs list. The list combines a blog's PageRank, Technorati Ranking and Alexa Ranking (known as 45n5 Rank) and then displays the blogs in order (as shown below):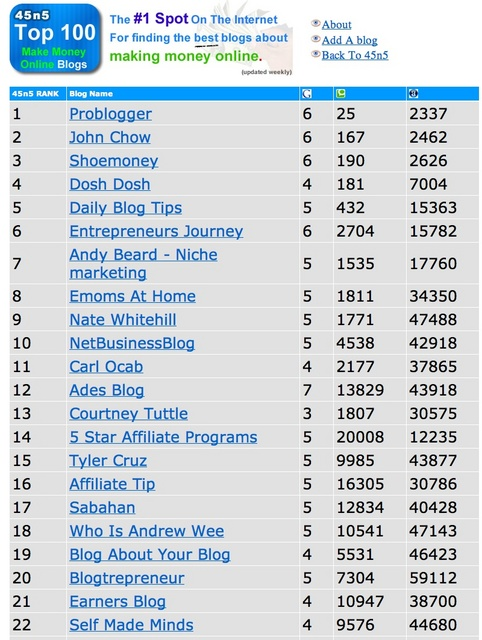 So,
why is this a great piece of linkbait
? To begin with, it's
useful
. Mark (the creator of the list) even explains how it can be useful to bloggers and advertisers at the bottom of the list: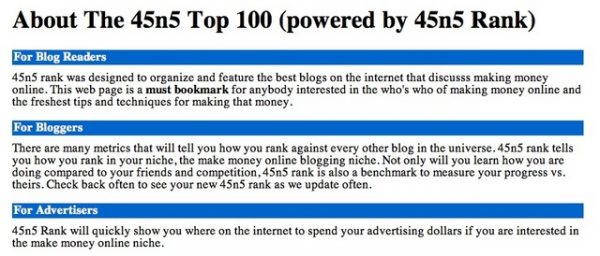 In addition to creating a useful piece of content that makes bloggers want to link to it (in many cases, to show off their ranking), Mark also went the extra mile and promoted his list via email. Judging by the number of links that Mark has received, this extra effort really paid off. Here is a video of Mark explaining how he ran his email promotion campaign:
Mark also expands on the results of his promotion campaign in this
follow-up post
(my only suggestion would be to
automate the response process
for people requesting to be added to the list).
| | |
| --- | --- |
| | 45n5, 09-12-2007 |
thanks for the great write up, glad you liked it. This blog is in the database now and will show live with the next rank update.
Also, here is another piece of linkbait doing smashingly that has the same flavor as my list
http://northxeast.com/blogging/nxes-...tial-bloggers/
cheers,
mark
Enjoyed this post?

Subscribe Now to receive new posts via Email as soon as they come out.