Call us Toll-Free:
1-800-218-1525
Email us
Visual Search is Here!

Dawn Rossi, 07-23-2008
So... you thought Google is the "be all" and "end all" search engine?
You love Google's simple interface and think there's not much to be done on the user interface level?
Think again!
Meet
SearchMe
. The second generation of visual search, that actually works.
We've all seen how Ask.com and MSN Live have been incorporating built-in images/video search as part of search results...
SearchMe takes it up a notch. All search results are displayed as screenshots, with a Mac like sexy panning interface.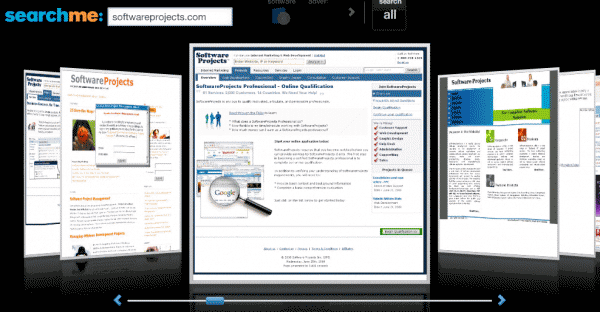 It's kind of like
snap.com
, only much better :-)
One of the cool features of SearchMe, is the ability to create custom stacks (collection of browser pages, images, videos) and embed them on your blog -
-
Thank you Steven for the heads up
Enjoyed this post?

Subscribe Now to receive new posts via Email as soon as they come out.