Call us Toll-Free:
1-800-218-1525
Email us

Dealing with Shopping Cart Abandonment

Adrian Singer, 01-06-2009
Shopping Cart Abandonment is a serious problem!
What is "shopping cart abandonment"?
Shopping cart abandonment is when a visitor initiates your checkout process but leaves before completing their purchase.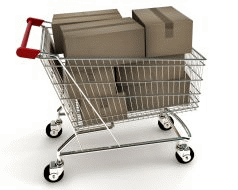 Why is it important?
Industry publications report a 70% average shopping cart abandonment rate for the majority of retailers. Since, on average, websites convert visitors-to-sales at a rate of 1% to 2% then 98% to 99% of the visitors to your website leave without purchasing!
These percentages identify an enormous improvement opportunity for online businesses.
How to Reduce Shopping Cart Abandonment
The five things you could do right away, to reduce the percentage of customers who abandon their order are:
1. Stick to a
one-page-checkout
2. If information is missing or filled out incorrectly during checkout, give a meaningful error message that's obvious to see. It should clearly tell visitors what needs to be corrected. The tone should be the system was unable to understand what was entered, not the visitor made a foolish mistake.
3. Credibility. Show them you're a real entity. People's concerns start to flare up during checkout. Let them know you're a real company by giving full contact info, your photo, BBB & Guarantee during the checkout process.
4. Clearly identify what your visitor should click next to complete the step
5. Provide purchase options and payment plans
How to recover abandoned orders
Since we understand the importance of shopping cart abandonment, we wanted to make it easy for you to recover those lost sales.
SPI developed a system that allows you to easily download and follow-up with prospects who abandoned their orders. Our experience shows, in many cases those orders can be recovered.
The SPI
shopping cart
is one of the only systems that provides you with easy built-in access to all information regarding abandoned orders.
Be sure you setup a process to follow-up with all abandoned orders on a daily basis. You'll be surprised how many you can salvage.
-
To access abandoned orders:
1. Login to your SoftwareProjects account and click on the 'Customer Manager'.
2. Click on 'Abandoned' to view all prospects who abandoned their orders.

3. Select a date range and then click the
Export
button at the bottom of the page to download all information into an Excel spreadsheet.
You can also setup a daily report and have all abandoned orders emailed to you automatically.
| | |
| --- | --- |
| | Pinny Cohen, 01-12-2009 |
The abandoned customer feature is neat. I haven't seen too many other shopping carts that offer this, and I've been writing about the value of working on the conversion rate
| | |
| --- | --- |
| | carl, 04-26-2013 |
I agree, I think it's so important to keep the checkout short and sweet, there's nothing that puts a customer off more than a lengthy checkout.
Enjoyed this post?

Subscribe Now to receive new posts via Email as soon as they come out.