Call us Toll-Free:
1-800-218-1525
Email us

In-text Advertising

Mike Peters, 03-03-2007
In-text Advertising
is a script you place on your website that finds keywords on the page and double underlines them.
When a visitor to your website hovers the mouse over the double underlined link, an advertisement associated with that word will pop up. Advertisers pay to have their ads associated with particular words and you get paid a portion of that fee.
In-text Advertising is a great way to monetize on your blog, forum or website, providing you have the unique content and frequent website visitors.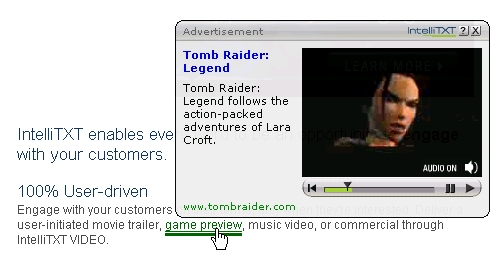 The only disadvantadge of this feature is that it makes pages slightly more difficult to read; scrolling down the page may inadvertently cause delays while random ads flash on and pause before disappearing.
I have several clients who incorporated In-text Advertising into their websites and saw an immediate boost in revenues. As always I recommend you experiment with in-text advertising and see if it's a good fit for your site.
There are three leaders in this space:
IntelliTXT
,
Kontera
and
OnTok
. Signup process involves a review of your website to determine if it's a good fit. Websites with less than 500,000 page views per month are normally not accepted as the revenue driven by in-text advertising for such sites will be insignificant.
Enjoyed this post?

Subscribe Now to receive new posts via Email as soon as they come out.