Call us Toll-Free:
1-800-218-1525
Email us

Increase Conversions by analyzing your Website Sales Funnel

Adrian Singer, 10-08-2007
One of our clients from Switzerland recently hired us to take their online shopping website to the next level.
The site was getting a healty 8,000+ unique visitors per day, but online sales were far from satisfactory.
Before diving into the 81
online marketing channels
we use to help businesses make more money online, we asked the client to forward their WebTrends and Google Analytics reports.
Here are some of the numbers we were provided with:


If you're looking to increase your website's conversions, the first thing you absolutely have to do is understand where you are losing potential customers.
It doesn't matter whether the purpose of your website is to generate RSS subscribers, sell magazine subscriptions or collect mortgage applications. You have to analyze every single step your potential customers go through until they fulfill your goal.
You don't need a super expensive web analytics package to do that. All you need is some basic numbers and a
sales funnel
.
A sales funnel is an upside-down cone, describing the process your website visitors go through from the moment they visit the site until they fulfill your goal. Every section of the funnel describes a step they go through. And by definition, every step holds a lower number of users because some drop-off and don't continue to the next step.
In order to improve conversions, all you have to do is focus on one section at a time and take the necessary action to increase the number of users who follow-through to the next step.
A tiny increase in the number of users who proceed from step #2 to step #3 for example, is going to lead to a huge increase in conversions.
Website Sales Funnel
A sales-funnel allows you to clearly visualize the numbers, identify your top leaking points and focus on improving them one by one.
You can easily create a sales-funnel using the data obtained from Google Analytics or any other analytics tool. You can even do it by hand if your analytics tool doesn't support this feature.
Simply define a few goals (i.e. "First Sale from a new customer", "New RSS subscriber", "Repeat Sale" etc), then go through your data for the last 12 months and build 12 sales funnels to display the data for each month.
It is important that you go through
all
the steps required to fulfill each goal. For example, if your goal is "new RSS subscriber", count the minimum time it would take for a visitor to your site to get to the RSS subscription page, identify the page-name and then look for data pertaining to that page.
Here's the sales funnel we built based on the data provided by our client:
Monthly Website Sales Funnel - 2007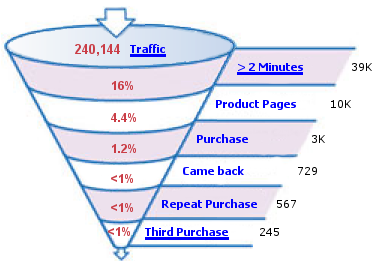 On a typical month, our client is scoring 240K+ visitors to their site.
According to our study, it takes a minimum of 2 minutes for a visitor to the site to place a new order.
* Our of 240K visitors to the site every month, only 39K (16%) spend enough time on the site to place a new order.
Action Item:
To increase the amount of time visitors spend on the site, we need to focus on more personalized, up-to-date and engaging content. Coupons, Seasonal items, User reviews and one-time-offers (OTO) are some of the things we should experiment with.


* Those visitors who stick around long enough to place an order, don't always end up on the product page (You have to view a product page before you can place an order). Some of them just wonder around the site for a few minutes until they leave.
Action Item
:
To increase the number of visitors who end up on product pages, we need every page of the site to link to products. "Hot Products", "Best Selling Products", "Clearance Products" and "Product of the day" work very well with similar sites.
* On average, only 1.2% of the total visitors to the site end up placing an order. Industry standard for this industry is 3%, which would be three times the company's online sales volume.
Action Item:
Simplify checkout process (switch to one page checkout), Collect email-address before the checkout process starts (to follow-up with customer if they abandon their cart), Experiment with exit popups.
* Less than 1% of the users who placed an order, came back to the site. Since one of the goals our customer had was to increase repeat business, it was very important for us to monitor how many visitors end up coming back to the site. It is a known fact that selling to an existing customer is 7 times easier (cheaper) than generating a new one.
Action Item:
Design an ongoing autoresponder Email campaign to entice customers to come back and place another order in exchange for a one time coupon that expires 60 days from the day of the first purchase.
--
Other things we found during our research -
* The client's existing PPC campaigns contain mostly "generic keywords", not differentiating between online searcher's three mind sets: browsing, comparing and ready-to-buy.
Action Item
:
Stay away from "generic keywords" that appeal to users who are mostly browsing, or at least significantly reduce the bids for those competitive items. Build specific campaigns to address users who are in the "comparing" and "ready-to-buy" modes. Design better more relevant landing pages with stronger calls to action.
* Product pages are mostly low on content.
Action Item:
Write a minimum of three paragraph keyword-rich description about every single product. Include technical specification if applicable and link to the vendor website (trust factor)
* Content not fresh. Google's bot visits site only once every two weeks.
Action Item:
Embed customer reviews, product-of-the-month and even product-of-the-day on the home page of the site. The more fresh your content is, the higher importance Search Engines are going to assign to your pages.

--


In summary - know your sales funnel. Define your goals then break them down to steps, focus on improving one step at a time - Divide & Conquer.
As you go through this process, take advantage of
competitive intelligence
information - study what your competitor's are doing and analyze what's working best for them.
| | |
| --- | --- |
| | Stanley Salino, 10-08-2007 |
In your experience what are average percentages for each stage in the sales funnel?
| | |
| --- | --- |
| | Adrian Singer, 10-08-2007 |
Great question Stanley!

It's very difficult to come up with an average that would apply to all industries and all different types of sales funnel.

But since you asked, what I -can- tell you is that generally speaking, a healthy funnel will effectively maintain an average of 50% of the users across every stage in the sales funnel (1 out of 2).

The first thing you can take from this is - the more steps you have, the more leakage you're going to experience. This is a fact. So reduce the number of steps it takes your customer to buy / become an RSS subscriber / buy again, or whatever your goal is.

As for percentages for each specific stage, you can safely use the "keep at least 50% of the visitors" as a realistic goal.

Taking the example above, this would amount to -

240,144 visitors
=> should convert to 120,072 spending more than 2 minutes
=> should convert to 60,036 hitting the product page
=> should convert to 30,018 making a purchase... and so on and so forth...

I know 50% may seem like an aggressive number to you, but it is definitely a realistic one that we have been able to maintain across various campaigns.

When it comes to Email Marketing for example -
Sending an email to 100,000 subscribers
=> Should generate at least 50,000 successful deliveries
=> 25,000 opens
=> 12,500 clicks
=> 6,250 visits to the checkout page
=> 3,125 conversions (3% of the target send) and so on.

If your Email campaign, PPC campaign or any other online marketing campaign, is generating a conversion rate that is lower than 3% of your total volume (total emails sent, total visits to website etc), take a close look at the steps in your sales funnel, test and tweak until you understand where the main leak is.
| | |
| --- | --- |
| | Piotr Obminski, 03-01-2011 |
Interesting info, thanks!

After seeing that funnel and that only 16% of the visitors stays on the site longer than 2 minutes, I'm less worried about the behavior of my own sites. I really thought something wass wrong with some of them.
Enjoyed this post?

Subscribe Now to receive new posts via Email as soon as they come out.