Call us Toll-Free:
1-800-218-1525
Email us

Kajabi vs SoftwareProjects

Adrian Singer, 09-01-2010
There's a new kid on the block.
A new system designed to "simplify the deployment of Marketing Campaigns, Sales Funnels, and Product Launches from their current technical complexity down to Drag-and-Drop Ease" (Source:
Kajabi.com
)
Kajabi was created by
Andy Jenkins
(VideoBoss, formerly with Stompernet), Kenny Rueter and Travis Rosser. With this roster, you can bet your Inbox is about to be flooded with emails about how Kajabi is the best thing since sliced bread.
With this post, I wanted to address a question by one of our clients - how does Kajabi compare with SoftwareProjects' own
Shopping Cart
solution.
Disclaimer:
Kajabi is still under development. The information I gathered for this post was collected by analyzing two recent
product launches
powered by Kajabi, along with a series of emails from the Kajabi team.
First things first: Kajabi is NOT a Shopping Cart
Kajabi is not designed to be an end-to-end shopping cart system.
They will integrate with all popular shopping cart systems, but it's just not designed to be a CRM / Affiliate & Lead Manager / Fulfillment / Backoffice, like SoftwareProjects or Infusionsoft.
You can expect limited built-in support for selling your content, but you're not going to get an
executive dashboard
that lets you manage the full 360 of your Internet Business.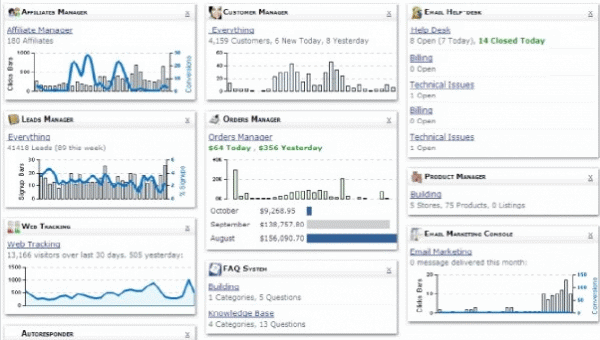 Membership System
Kajabi offers a built-in membership system, where paying members login to access the content (videos / tutorials) they paid for.
You can customize the membership system skin to some degree and manage members from the admin panel. Think aMember plus a CMS (Content Management System).
At this point my understanding is there's going to be a single backoffice (unlike SPI's Customer's Backoffice and Affiliate's Backoffice), which will support a single product per Kajabai deployment.
Content Delivery
This is one area that keeps being emphasized in all communications I hear about Kajabi.
Still not clear how this is different from hosting all videos and MultiMedia on
Amazon S3
or EdgeCast, like everyone are doing.
I'm guessing they use the same underlying technology and just make it easier to use.
Autoresponder
Kajabi will not have a built-in Autoresponder.
It is said to integrate with popular Autoresponder services such as
AWeber
,
SoftwareProjects
,
iContact
etc.
Help desk
Kajabi will not have a built-in
help desk system
.
Hosting
Kajabi is said to offer "Cloud Computing Technology, (so that) you can publish anything you create with Kajabi instantly to the web - with theoretically infinitely scalable virtual hardware resources".
They seem to be using Rackspace Cloud hosting, to create virtual instances of your site as needed, to accommodate traffic demands.
This sounds very similar to SoftwareProjects'
Multi-Homed hosting
, where we do what no other company has ever done before and guarantee 100% uptime, no matter what.
Battle Tested
Kajabi successfully powered the product launches of Andy Jenkins' Video Boss and Frank Kern's List Control.
While still under development, the technology has proven its ability to handle launch-day traffic without too many glitches.
Here at SoftwareProjects, we have been powering the majority of the big
product launches
you hear about, including Magnetic Sponsoring WWN, the ShoeMoney System, ListBuilding, PPC Classroom, Affiliate Classroom, OnlineMLMSecrets and others.
Then again... we've been doing this since 1998.
In Summary
We really look forward to working with the Kajabi team on the integration side.
Where Kajabi shines is simplifying the process of getting an info-marketing product up in no time.
I would describe it as an InfoMarketing CMS with a membership backoffice. It may not have all the bells and whistles, but as long as the integration is straightforward, you get the best of both worlds.
-
More on this topic:
*
Kajabi's home page
*
Kajabi Beta Testing portal
*
Follow Kajabi on Twitter
*
Andy Jenkins blog
| | |
| --- | --- |
| | Dave Lianelli, 10-23-2010 |
Adrian, now Kajabi has launched, I'd love to hear your opinion. They offered a free trial, don't know if it's still available.
Enjoyed this post?

Subscribe Now to receive new posts via Email as soon as they come out.