Call us Toll-Free:
1-800-218-1525
Email us

Why was the payment declined?

Adrian Singer, 06-10-2009
Driving
traffic
is key, but how do you reduce payment decline rates?
SoftwareProjects
Shopping Cart
now offers 5 reports to help you trouble-shoot the reasons for declined payments early on, so that you can resolve any issues right away.
1. Payment Decline-rate Trends
Decline rates typically hover around 10%, however they do vary by industry. Monitor your decline-rate trend regularly.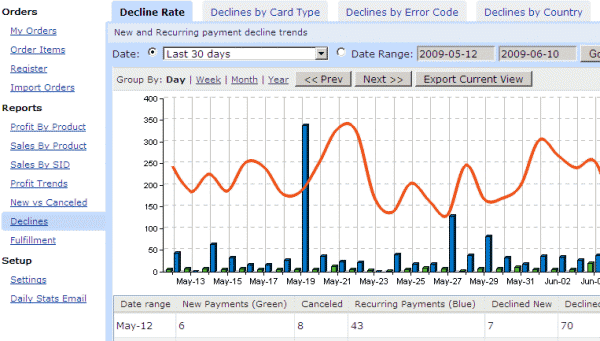 2. Declines by Credit-card Type
A simple misconfiguration with your merchant account provider, can easily cause all American Express or Discover payments to get rejected.
3. Declines by Error Code
Are you getting too many AVS (Address Verification Service) declines? It may be time to review your AVS settings
4. Declines by Country
Helpful in detecting fraud attempts.
5. Declines by Affiliate
Find the affiliates that are generating the highest percentage of declines.

-
In addition to these reports, you can always view and download a complete list of all payment declines under 'Order Manager' - 'Register'

Enjoyed this post?

Subscribe Now to receive new posts via Email as soon as they come out.