Call us Toll-Free:
1-800-218-1525
Email us
1ShoppingCart is Down

Mike Peters, 02-11-2011
1ShoppingCart.com
, a popular shopping cart provider, has been down for 3 hours and counting...
Since 1ShoppingCart is a centralized system, this means every single merchant using 1shoppingcart is losing leads and sales hand over fist.
Twitter is full with raging customers and no ETA from 1Shoppingcart: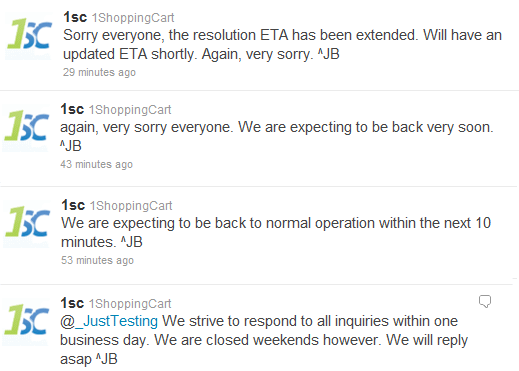 Contact us
if you'd like to test drive the
SPI shopping cart
and experience first-hand, why so many are switching over.
-
This outage is the second major outage for 1ShoppingCart in the last 6 months.
Enjoyed this post?

Subscribe Now to receive new posts via Email as soon as they come out.