Call us Toll-Free:
1-800-218-1525
Email us
Amazon AWS & EC2 are down... This is why you need redundancy

Adrian Singer, 03-15-2012
Amazon AWS and EC2, are DOWN affecting an estimated 500,000 sites.
Twitter is buzzing with sysadmins, checkout pages are not coming up and millions of dollars lost.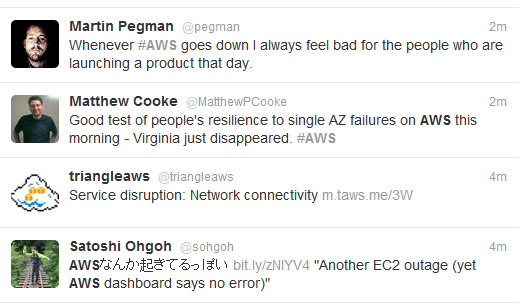 Here at SPI, we believe in
redundancy
.
Our client sites are hosted with Rackspace, NTT Verio, Softlayer and iWeb... all at the same time, on a master-master setup.
They're all great hosting providers, but as our friends at Pingdom frequently report,
if things can go wrong they will
.
Replicating client sites across multiple data-centers with multiple non-related hosting providers, is the only way to deliver true
100% uptime
across the board.
If your site needs to be up and running at all times,
contact us today
. We'd love to help.
| | |
| --- | --- |
| | wesley, 11-08-2015 |
Enjoyed this post?

Subscribe Now to receive new posts via Email as soon as they come out.