Call us Toll-Free:
1-800-218-1525
Email us
iWeb down for 4 hours, 3000 servers affected

Adrian Singer, 11-04-2010
Earlier tonight, at 11:00PM EDT,
iWeb
- a large data center headquartered in Canada, experienced a power outage due to a nearby fire, taking a
third
of its data center completely down.
As of this writing, 372 servers are still affected and iWeb is working frantically to bring machines back up.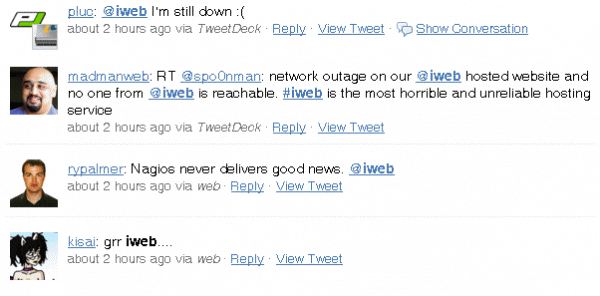 -
No matter which hosting provider you use, Murphy's law will have
every
single
one
of
them
go down on you, when you least expect it.
Five 9's reliability is no longer enough.
Customers demand 100% uptime and unless you're Twitter or Facebook, customers will go elsewhere when your service availability begins to deteriorate.
If 100% uptime is important to you,
contact us
. We can help.
Enjoyed this post?

Subscribe Now to receive new posts via Email as soon as they come out.