Call us Toll-Free:
1-800-218-1525
Email us

Take Advantage of Holiday and Seasonal Traffic

Tyler Banfield, 08-29-2007
Many newcomers to the world of internet marketing tend to overlook the potential of holiday and seasonal traffic. Whether you are using PPC to promote affiliate offers or have a web site that receives most of its traffic from search engines, here are two examples of how other internet marketers are harnessing the potential of holiday and seasonal traffic:

Breaking the $1,000 per hour barrier
Chad from CDF Networks wrote a post yesterday about how he made $4,000 in 4 hours. He accomplished this impressive feat by running multiple targeted Azoogle offers via PPC on Valentine's Day.
As Chad outlines in his post, in addition to having a major holiday to target, the other keys to success are advanced preparation and the use of multiple offers.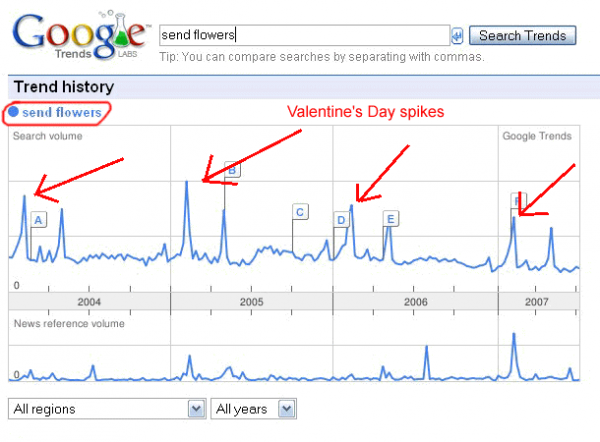 The only point I would add to Chad's point is the length of time that you should run your campaign. Although Chad focuses on Valentine's Day itself, I would recommend running your campaign for approximately three weeks prior to the holiday itself, and then for one week after the holiday (to take advantage of all the procrastinators who have to get back on their significant other's good side).

Do You Have a Seasonal Search Engine Optimization Strategy?
Although Chad's approach relies solely on holiday PPC traffic, Wendy from eMoms at Home discusses how to take advantage of seasonal traffic from organic search results.
Wendy shows how content she wrote about entertaining kids during the summer and tax deductions for bloggers receive huge spikes of traffic during the appropriate seasonal time.
Wendy gives quite a few tips about how to take advantage of these seasonal trends, but here are the two that I consider the most useful:
Quote:
-Use seasonal keywords in post titles
-Rotate advertising on your site to fit the season
If you want to continue reading about what seasonal traffic can do for your web site, I recommend reading ProBlogger's
post
on this topic from July.

| | |
| --- | --- |
| | Wendy Piersall, 08-29-2007 |
What a great extension to my post, Tyler! I didn't even think about the PPC side of things, and I really should have. I'm just going to edit the post and add your link. :D
Enjoyed this post?

Subscribe Now to receive new posts via Email as soon as they come out.